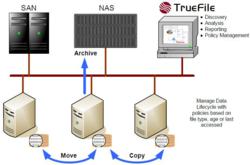 It was amazing how easy it was to set an archiving policy and even more amazing was how much data had not been accessed in over a year.
-Ted K. Texas Center
Round Rock, TX (PRWEB) May 16, 2013
True File, created by Storworks Software, is now capable of policy processes, which allows users to move, archive, and copy and delete any file or file type based on a pre-determined schedule.
Options include filtering by:

Last Access
Date or Age of file
Created date
Actions include Copy, Move, or Delete by selecting source and destination.
This allows reduction of an organizations backup window to move inactive data to a lower cost medium. Backing up the same files night after night even when not in use in over a year is not an efficient use of resources, reduce the impact with and automated policy by moving inactive data to a new share and backing up one final copy. Active policies need to be updated because your data is changing. True Archive policies can save you both time and money by just improving the efficiency of how you manage your data.
All data movement is logged for verification and each policy has the option to set Checksum Verification, Retain Folder Structure and Retain File Permissions to preserve user rights.
Select the day of the week and time or set a monthly option and include a single or multiple file shares at the same time.
"Set it and forget it."