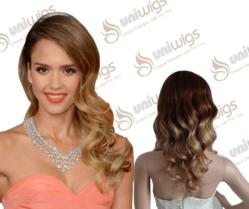 Uniwigs is a break through the traditional and innovative wigs brand.
City of Industry, CA (PRWEB) May 15, 2013
Uniwigs recently introduced the Gradient Color Long Curly Hair Wig with three colors from the top to the bottom and won the customers' consistent high praise. Its sale performance also grew up to a new level.
Uniwigs is a break through the traditional and innovative wigs brand. Its idea is to make the wig a kind of head fashion. From its date of birth, it is committed to run the wig industry as the fashion industry, letting people enjoy hair changing like clothing changing.
Its new product, 3T color wig, is called Amelia Wave 16" Indian Remy Human Hair Full Lace Wig. Its style is modeled after the star Jessica Alba's (a famous American actress) hairstyle, only a little shorter than Jessica Alba's hair. This wig unfolds your extraordinary charm and glamour with 3 colors from the top to the bottom: black, brown and blonde. It features a 3T color and looks more beautiful than general 2T color wigs. There is about 1-2 inches of dark color in the hair root and other colors in the bottom. The dark color grows from your scalp, so that will be more natural. This lace wig looks and feels like 100% natural healthy flowing hair. Combined with the extremely natural lace technology, no one will ever guess that you were wearing a wig! What's more, it can be styled freely.
This 3T color product has high requirements for designers and dyeing technician. From the designer's point of view, it tests the designer's feeling of fusing hairstyle and color. From the technology's point of view, this is a more complex process and needs very high technical requirements of the dyeing technician.
Nowadays, wigs have become essential hair style for lots of fashionable women. It is one of the most important parts of the fashion. So fashion women can try this 3T color wig of uniwigs' new style. Uniwigs also can customize wigs for its customers, and customers just tell them their requirements.