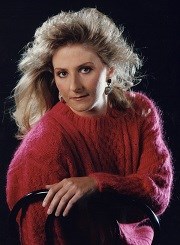 To satisfy the modern-day Romance reader, I give my readers plenty of humor, sass and emotion, plus rip-roaring adventure and a whirlwind of a love story.
Austin, Texas (PRWEB) May 17, 2013
Fiction writers who hope to make a lucrative living writing Romance novels must give modern-day audiences strong woman characters that readers can admire.
"Whether contemporary or historical settings is the preference, readers buy Romance novels because they want to immerse themselves in the vicarious thrill of falling in love," said #1 Bestselling Romance novel author and book-writing coach, Adrienne deWolfe. "For the reader, the object of desire is the hero, but the star of the show is the heroine."
DeWolfe, winner of the "Best Historical Romance of the Year Award," is the author of the bestselling Wild Texas Night series of Western Historical Romances: three novels that have won two awards for strong woman heroines and two awards for sexy, lovable heroes. Her e-book, How to Write Novels that Sell, and her bestselling e-book series, The Secrets to Getting Your Romance Novel Published, have become popular guides for the amateur writer who wants to become an author.
"To satisfy the modern-day Romance reader, I give my readers plenty of humor, sass and emotion, plus rip-roaring adventure and a whirlwind of a love story," deWolfe said. "It doesn't hurt to write believable scenes of passion, but what critics of the Romance genre fail to understand is that readers don't buy Romance novels simply to read love scenes.
"In fact, in reader poll after reader poll, our core audience insists that love scenes have to move the plot forward to stay interesting. Romance readers want to be moved emotionally. Scene after scene of gratuitous sex, written strictly for titillation, bore the core Romance reading audience."
DeWolfe defines the core Romance reading audience as women, age 35 to 65. The vast majority of these readers are college-educated and work outside the home as business professionals.
For aspiring Romance writers who are eager to learn how to write Romance novels, deWolfe developed the following list of 20 writing tips for crafting a strong but appealing woman character:
1. The heroine knows her own mind: she knows what she wants. However, she doesn't know the best way of achieving her goals. (Determining that path is part of her story arc.)
2. She is living a fulfilling life without a man. However, love and marriage would make the heroine's life even richer. (This is a Romance novel, after all!)
3. Because she is a protagonist, she exhibits larger-than-life behaviors that serve as an inspiration or role-model to readers. However, she also possesses a "character" which must grow throughout the story. To achieve this growth, she might strive to exemplify more of the 7 Virtues (Charity, Temperance, Chastity, Patience, Kindness, Humility, and Diligence). Add to the Virtues list: Compassion, Forgiveness, Reliability, Generosity, Gratitude, and Trust.
4. The protagonist cares about her community and/or the planet. She finds ways to make a positive difference in her world, even if the gesture is as small as brightening her employer's conference room with fresh flowers.
5. She demonstrates a healthy self-respect. A heroic woman would not let the volatile emotions of bullies or toxic personalities hold her "hostage" for long. She has the courage of her convictions, and she will walk away from personal or professional relationships that sabotage her greater good.
6. During times of hardship, she draws upon deep internal reserves (faith, self-love, self-esteem, etc.) to maintain a positive outlook and to maintain her determination to achieve her goals.
7. In her own way, either overtly or covertly, she dares to challenge repressive or outmoded social conventions. (For example, if your heroine is a southern woman in pre-Civil War America, she might tutor her slaves to read and write.)
8. She is courageous in the face of physical danger. (Note: anthropologically speaking, a woman's "role" in society is to protect children. A "heroic" woman, therefore, would consider the protection of children more important than her own personal safety, even if those children are not her own.)
9. She has a sense of humor about her body. She is not obsessed with being immaculate in her appearance, nor does she exercise "to death" to attain some elusive, media-hyped standard of weight or shape. If she is a glamour queen in the eyes of other women and men, she possesses an endearing blindness about her beauty.
10. The heroine may be chaste, but she is not a prude. She enjoys physical pleasure. If appropriate to the novel's historical era, she may initiate flirtation, the first kiss, or seduction. As a heroic character, she symbolizes the modern-day belief among readers that a woman's sexuality is natural and/or sacred.
11. She accepts responsibility for her decisions. She doesn't make excuses for her mistakes, nor does she blame others for them.
12. When jealousy or spite worm their way into her psyche, she consciously and deliberately reins in her insecurity. She takes the higher road by building herself up, rather than tearing another person down.
13. She is willing to put aside her pride and/or personal biases to forge win-win relationships, both personal and professional. For instance, she might offer her assistance to a female rival whom she had previously wronged while she was feeling vulnerable or hurt.
14. She finds the courage to speak the truth in defense of herself and others — even if the truth is not welcome.
15. The heroine demonstrates the feminine characteristic of Nurture. (Even if the plot does not allow the heroine opportunities to nurture the hero, a pet, or a child, an author could show her watering a garden or volunteering at a senior citizens' center.)
16. She is resourceful and resilient during crises or foreign situations. A heroic woman would never dissolve into a whiny, weepy, neurotic mess under stress!
17. The protagonist is a leader at heart – even if she has not yet found the venue in which she can express her leadership skills.
18. She is intelligent and insightful. She uses these advantages in ethical, law-abiding ways to ensure the best interests of herself, her loved ones, and her business.
19. When it comes to her feelings, she is self-aware. She possesses the discipline to rein in her emotions to make rational decisions when logic is required.
20. She is willing to acknowledge her faults. She is willing to change/grow to become a better person.
Adrienne deWolfe is a #1 Bestselling Author on Amazon.com, winner of "The Best Historical Romance of the Year Award," and author of How to Write Novels that Sell, as well as the bestselling series, The Secrets to Getting Your Romance Novel Published. When Adrienne's not writing her current novel projects (which include a YA Fantasy series and a Paranormal Romance), she enjoys mentoring aspiring authors by offering professional story critiques, book-coaching services, and online fiction-writing courses. For more writing tips and information, visit her website, http://WritingNovelsThatSell.com.