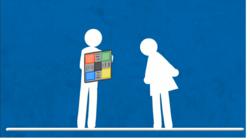 Not since Adam and Eve has there been a more universally know couple...
Los Angeles, CA (PRWEB) May 15, 2013
Saturday Night Live alum, and Executive Producer Michael Wilson today released original animation segments from the new, guy-branded and testosterone-fueled sketch comedy series "The Men's Room," featuring the iconic "Guy and Gal" stick figures internationally known for adorning the entrances to restroom doors all over the globe.
In describing the segments, Wilson stated: "Not since Adam and Eve has there been a more universally known couple than these two. So we thought it would be fun to give them a voice -get to know them a little better... They certainly have a "Venus and Mars" thing going on –and let's face it, our production definitely looks at the relationship from the guy's point of view. But hey, whatever they got going it's working, because as far as I can tell they've been together for a very long time."
The animation segments will be featured in each weekly episode of the new production, which features a talented and break-out cast culled from such notable comedy troupes as Improv Olympic, The Second City, The Upright Citizens Brigade, and The Groundlings, and is described by Wilson as a sketch-comedy show "By guys, for guys –and everyone who likes sketch comedy."
"The Men's Room" will be shopped shortly to network broadcasters, but the animations segments, along with the entire pilot episode, can currently be screened for a limited time at the production's website: The Men's Room
The series stars: Cooper Barnes, T'Shaun Barrett, Scott Beehner, Robert Belushi, Sitara Falcon, Mark Gagliardi, Marta McGonagle, Jo Newman, Bruce Wexler, and was created by and executive produced by veteran sketch-comedy, and Emmy-nominated television producer Michael Wilson, whose credits include "Saturday Night Live" and "Politically Incorrect."