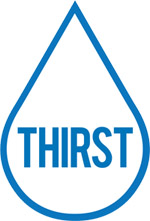 "As a company that embodies the Generation C mentality, we view Google Glass as an absolute game-changer." Anuj Verma, CEO, Thirst Labs
San Francisco, CA (PRWEB) May 15, 2013
Thirst Labs today announced that Thirst Droplet for Glass is now available to Google Glass users. Building on the success of Thirst's iPad and iPhone apps, Thirst Droplet for Glass will deliver push notifications to users when there is a spike in topics they follow.
Thirst Droplet for Glass allows people to follow topics on Thirst's social news platform via mobile device or the Web. Based on each user's personalized preferences, Thirst's natural language processing engine scans millions of online news sources including social media chatter, blogs and articles to detect which news topics are trending and deliver timely alerts. Users have the option to read the full article, flag it for future reading, and like or dislike stories.
In order to launch the first Google Glass app in the social news market, Thirst Labs mobilized quickly to develop Thirst Droplet for Glass, building the app in less than 72 hours. With scant documentation available in the nascent Google Glass developer ecosystem, Thirst Labs' engineers relied on trial and error to create Thirst Droplet for Glass. Development of the app was made more challenging due to the engineers' limited access to a Google Glass device to test notifications, displays and user experience.
Thirst Droplet for Glass is designed for highly connected users such as Generation C – a demographic group defined by Nielsen Research Group not by its age, but by its "connected behavior". Generation C, which is credited with driving the stratospheric growth of YouTube through its consumption of online video through a variety of devices, has also been defined by the words "community," "curation," and "creation". Thirst Droplet for Glass allows Generation C users to embrace a new social news experience by staying up to date on the topics they care most about while on the go or multitasking on multiple screens.
Downloads and Availability:
To download Thirst Droplet for Glass, please visit http://www.thirst.co/glass and login to the Thirst network or create a free account.
Quotes:
"As a company that embodies the Generation C mentality, we view Google Glass as an absolute game-changer and wholeheartedly embrace this technology. Thirst Droplet for Glass adds a new dimension to the social news landscape by combining personalized news and push technology to meet the needs of a new breed of technology user."
-- Anuj Verma, CEO, Thirst Labs
"Instead of building the Glass API directly into our application, we have been creating standalone libraries with the intent of open sourcing them to the developer community. We look forward to the continued growth and evolution of the Google Glass platform, and are proud to be early entrant in this revolutionary market."
-- Han Kang, Software Developer, Thirst Labs
Resources:
Download Thirst Glass
Thirst Glass Images and Screen Shots
About Thirst Labs
Thirst Labs bridges the gap between how people get their news and where they engage with it. Thirst Labs was founded by Anuj Verma and Kunal Modi, UC Berkeley graduates specializing in UI, UX, algorithms and architecture. Winner of first prize at the 2012 SXSW Accelerator Competition in the social category and the Judges' Choice award at GigaOM's Mobilize 2012 LaunchPad, the company's investors include BlueRun Ventures, Steve Newcomb, and Jason Krikorian. Thirst Labs is headquartered in San Francisco, Calif. For more information, visit thirst.co.