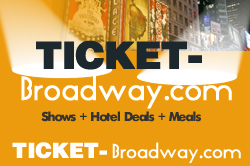 Book Of Mormon Tickets in New York remain the hottest show on Broadway, but when it comes to the best selling theater ticket in the country The Book Of Mormon touring shows in cities like Chicago, Philadelphia and Washington DC prove worthy competitors.
New York, NY (PRWEB) May 23, 2013
Book Of Mormon tickets almost always top the list of best selling theater tickets in the resale market. Coming in second on most occasions one finds the Book Of Mormon again, and the two continue fighting it out for the top spot. I'm talking about the Book of Mormon on Broadway in New York battling with the Broadway Tour version of Book Of Mormon in Chicago. Not only does Book Of Mormon Chicago win best ticket sale honors frequently, looking at total sales over the past four weeks Book Of Mormon Chicago outsold Book Of Mormon Broadway. If anything, the trend indicates that while Book Of Mormon still ranks as Broadway's hottest show, it may be loosing steam in New York City as more and more people already saw it in Manhattan.
Book Of Mormon Washington DC deserves a mention as well, even though it trails New York and Chicago. The Broadway touring version of Book Of Mormon Chicago already opened, so some ticket sales reflect people buying seats to see a show right now. On the other hand, Book Of Mormon in Washington DC opens July 9, yet it still demonstrates strong sales months in advance. Contrast that with the Book Of Mormon Cleveland touring company opening on stage in June but being outsold by Washington DC about two to one.
To highlight the success of The Book Of Mormon and to mark the launching of the newest member of the Financial Firebird ticket sales family, BroadwayTouringShows.com, Firebird offered several sets of orchestra section tickets for The Book Of Mormon in Washington DC to the public for an extra discounted sale price. One may only buy these special tickets via telephone by calling 800 351 3301 and asking about the Book Of Mormon orchestra seats for $120 each including fees. Contrast these discount tickets with the cheapest orchestra tickets at Stub Hub for the same performance selling for $206 including fees.
Theater fans may rest assured when dealing with Financial Firebird's ticket sites that their tickets are authentic and the price they pay beats about every other resale site on the net. Shows like The Book Of Mormon emerge as some of the best for using a resale site as the box office sold out of tickets long ago. The sites also represent a great place to visit when looking for very good seats on short notice. For Broadway tickets in New York visit Ticket-Broadway.com and for road performances click over to BroadwayTouringShows.com attend a great night of theater and save money compared to other outlets too.
About Financial Firebird and Ticket Broadway
The site to buy Broadway Tickets online and its sister sites, including the Buy Cheapest Tickets online site all geared for the consumers looking for low prices on tickets, are affiliated with the Financial Firebird Corporation Travel Group, and stand among the top sites sought by travelers and people who enjoy concerts, pro sports and theater performances. Financial Firebird Corporation provides unbiased consumer information, software and marketing services - established 2000 and a proud BBB member. These sites for consumers to buy tickets online operate in the resale market and maintain no relationship with the venues or performers, the resale ticket market allows consumers access to popular events once the box office has sold out or to buy premium seats when the venue no longer offers any inventory. Within the group of these secondary market ticket services the Financial Firebird owned ticket sites offer lower prices than competitors. Find the site at Ticket-Broadway.com.