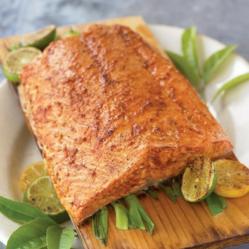 Alaska salmon comprises five species and accounts for over 90% of all wild salmon in North America.
Juneau, Alaska (PRWEB) May 15, 2013
The summer harvest season for wild Alaska salmon officially opens tomorrow, May 16, with a projected harvest of 179 million fish. Should the harvest reach this prediction, 2013 will mark the eighth largest Alaska salmon season on record and a 40% increase from last year's catch of 127.1 million fish. The season kicks off with the arrival of king and sockeye in the Copper River, with larger openings throughout the summer and continuing into September.
Alaska salmon comprises fives species and accounts for over 90% of all wild salmon in North America. Like all seafood harvested in the state, Alaska salmon is always wild, natural, and sustainable. While most Alaska salmon is harvested during summer openings, Alaska troll-caught king salmon is harvested year round. Alaska seafood creates more jobs than any other private sector industry in the state, with nearly 80,000 people—32% of the workforce—directly or indirectly involved, and continues to be a treasured way-of-life handed down through generations.
Seafood lovers who are interested in learning more about Alaska's five species of wild salmon can visit http://www.wildalaskaflavor.com, the newly redesigned website from the Alaska Seafood Marketing Institute (ASMI). Layering images via parallax scrolling technology for a fluid, three-dimensional feel, the glossy new site inspires visitors to "invite wild to dinner" and offers an immersive tour of Alaska's commercial fisheries. From salmon to whitefish to shellfish, http://www.wildalaskaflavor.com is a comprehensive and entertaining resource for everything related to Alaska seafood.
Along with mouthwatering recipes, nutritional info, and the stories of local fishermen, visitors can discover Alaska's legacy of sustainable seafood and learn about how the state uses the best science available and careful management to ensure that wild Alaska seafood is never overfished and will be abundant for generations to come. In fact, Alaska's commitment to sustainable seafood is written into the state constitution!
About Alaska Seafood
The Alaska Seafood Marketing Institute (ASMI) is a partnership of the State of Alaska and the Alaska seafood industry. ASMI works to promote the benefits of wild and sustainable Alaska seafood and offer seafood industry education.
For more than 50 years, Alaska has been dedicated to sustainable seafood. We're proud of our leadership in sustainable management, which has led to an ever-replenishing supply of wild seafood for markets around the world. For more information, please visit http://www.alaskaseafood.org.