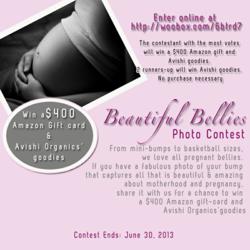 Bethesda, MD (PRWEB) May 16, 2013
Avishi Organics, developers of all-natural, high-performance skin care treatments for pregnancy and beyond, has launched a "Beautiful Bellies Photo Contest", inspired by the inherent beauty of pregnancy. Contestants are invited to submit photos of their baby bumps that capture love, happiness and everything amazing about pregnancy and motherhood, for a chance to win a $400 Amazon gift card and a bottle of Avishi Organics' Intensive Repair Oil for Stretch Marks and scars. Two runners-up will each receive a bottle of Avishi's Intensive Stretch Mark and Scar repair oil.
How to enter:

Select a fabulous photo of your pregnancy that captures the beauty of motherhood and pregnancy
Submit photo online at http://woobox.com/6btrd7
Share photo with friends and wait for your photo to rack up votes
Photo with most votes wins
Contest closes June 30th 2013
Winner announced by July 10th 2013
"Mini-bumps or basketball-sized, pregnant bellies come in all shapes and sizes, and at Avishi Organics, we love them all. Celebrate your pregnancy by submitting a photo of your baby bump, for a chance to win big. Remember it doesn't have to be perfect to be beautiful," said Harmala Francois, CEO of Avishi Organics.
For the official rules of the contest, please see https://woobox.com/offers/rules/6btrd7
About Avishi Organics
Avishi Organics develops all-natural, therapeutic skin care treatments for pregnancy, post-partum, mothers and babies that are free from chemicals, toxic substances, cheap fillers and other harmful additives. Avishi's products include its Intensive Repair Oil for Stretch Marks and Scars, that combines nature's finest and most powerful ingredients, renowned for their healing and regenerative properties, for a high-performance, luxurious formulation that delivers maximum results in minimum time.