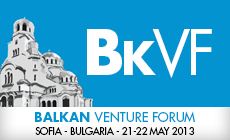 Brussels, Belgium (PRWEB UK) 15 May 2013
After the thorough evaluation of 90 applications, the selection committee has selected the top 36 innovative high-tech companies in the field of ICT to pitch at the Balkan Venture Forum, http://www.balkanventureforum.org/.
On 21-22 May 2013 at the National Palace of Culture in Sofia, Bulgaria these 36 business proposals will be presented to an international jury of venture capitalists, corporate investors, business angels and other experts from the industry. Next to the dynamic pitching competition, also provoking speeches, discussion panels and workshops will be held at the forum.
Selected Companies
Companies from a mix of countries will be attending. SME's from Bulgaria, Romania, Greece and Macedonia, as well as countries, such as Turkey and Italy are well represented.
Check out the presenting companies here:
http://www.e-unlimited.com/events/view.aspx?events_pages_id=1707
Other participants
Next to the participating companies, a diverse group of regional and international investors and experts will attend the Balkan Venture Forum, as speakers, discussion session panelists and/or jury members in the pitching competition.
Find the participants here:
http://www.balkanventureforum.org/participants-4/
Programme
Interested in the programme of the event? Please go to the following link:
http://www.balkanventureforum.org/programme-new/
Tickets
Tickets are still available and can be purchased until 20 May 2013 online here:
http://www.balkanventureforum.org/book-tickets/
On 21-22 May 2013 tickets can be bought at the door.
Hope to see you in Sofia!
Balkan Venture Forum is one of the main objectives of the SEE Programme project VIBE (Venture Initiative in Balkan Europe) and is being co-financed by European Union. VIBE is a regional eco-system accelerator that take on the challenge of developing the innovation and entrepreneurship system in the SEE. It does this through high-impact actions that enable a key financing process for innovation and entrepreneurship, which is crucial to the development of a knowledge-based economy in the SEE region.