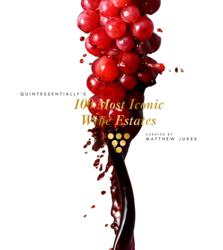 I have been keen to write this book for years and in a way it has been a quarter of a century in the making.
London, United Kingdom (PRWEB) May 15, 2013
The partying jet-set rejoiced last week as reports emerged that their preferred poison was in fact improving their memory. Yes, Pinot Noir and Pinot Meunier, the grapes used to make champagne, both contain relatively high levels of phelonics which is proven to slow memory loss and to help to prevent the decline of cognitive skills. Prompted by these recent developments many flutes were raised in celebration. Though, if you're looking for a real insight to the most famous vineyards in the world turn to Matthew Juke's chapter on Champagne in Quintessentially's exceptional publication The 100 Most Iconic Wine Estates.
Beginning with Winston Churchill's glass of choice, Pol Roger, Juke escorts the reader on a lively, fascinating tour of the Champagne region in Northern France. Churchill once said "champagne imparts a feeling of exhilaration, nerves are braced, the imagination is equally stirred; the wits become more nimble." High praise indeed for this exclusive house which produces just 1.5 million bottles a year and remains perennially popular with members of the upper-class since its being established in 1849.
Travel just a few kilometers east and you will arrive at the Billecart-Salmon chateau where the family has developed an entirely unique fermentation process, inspired by the traditional beer making process. Known as double 'débourbage' the wine goes through cold stabilization prior to fermentation, this allows the solids in the juice to settle and be discarded. Labour intensive and relying on meticulous attention to detail the process creates an incredibly pure wine which ages excellently. So much so that the 1959 Nicolas Francois vintage was given the accolade of Champagne of the millennium and Jukes can be quoted saying "if I had to choose just one bottle from Champagne, this is it" referring to their Le Clos Saint-Hilaire.
Incredibly, the Louis Roederer label is as old as the United States; established in 1776, the same year as the Declaration of Independence. Since the chateau's inception they've exported a large percentage of their annual produce to Russia and it was their seal as the official supplier to the Imperial Court of Russia in the 18th century that led to the birth of one of the most iconic status symbols of the 21st century: Cristal champagne. Tsar Alexander II was eager to differentiate his champagne from the bottles drunk by his subjects so an exclusive 'crystal' clear bottle with flat base was designed. Possibly one of the greatest, if most unwitting, marketing coups of the modern wine world ensued.
Bollinger Champagne has earned a remarkable six royal warrants over the years, from Queen Victoria to the current Queen Elizabeth II. However, the real 'queen' of the chateau must be Mme Lily Bollinger who took up the reins when her husband, Jacques, tragically died in 1941, at a time when it was utterly unheard of for a woman to head up a house. Mme Lily became an iconic brand ambassador as well as a local hero; famous for her community spirit and timeless work ethic she ensured the Bollinger name would be preserved and revered for many years to come. It was Mme Lily who gave the wine world one of its best loved quotes: "I drink Champagne when I'm happy and when I'm sad. Sometimes I drink it when I'm alone. When I have company I consider it obligatory. I trifle with it if I'm not hungry and drink it when I am. Otherwise I never touch it – unless I'm thirsty."
Voted the most influential wine writer in the UK in 2011, Matthew Juke's column in the Daily Mail attracts over 9 million readers a week. He has won the highly prestigious International Wine and Spirit Competition's Trophy for Wine Communicator of the year and lectures and judges across the globe. He is a true expert, aficionado and the curator for the exclusive, private wine club Quintessentially Wine worldwide. Juke says "I have been keen to write this book for years and in a way it has been a quarter of a century in the making. For the very first time I have put pen to paper to list my most iconic wine estates in the world in the hope that it will thrill wine lovers and also inspire those new to this delectable subject to delve further." Juke invites readers to trace the story of winemaking in this exquisite book which blends archive images, exceptional photography and personal accounts of what makes these the 100 Most Iconic Wine Estates.