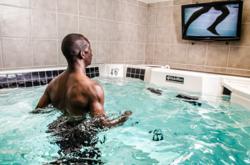 (PRWEB) May 16, 2013
Four-time Olympic gold medalist Michael Johnson is no stranger to an athlete's need and desire to continuously become stronger and faster. He also knows a thing or two about the importance of training wisely to avoid sprains, strains and more serious injuries along the way. That's why HydroWorx and Michael Johnson Performance have teamed up to offer a free webinar that illustrates the best practices for improving linear speed mechanics using aquatic techniques on an underwater treadmill.
The seminar, Use of Aquatics for Improving Linear Speed Mechanics, is scheduled for Tuesday, May 21, 2013, from 12:30-1:30 p.m. EDT. Participants can join in (post-registering) from any computer with an Internet connection.
Presenters Michael Johnson, Four-Time Olympic Gold Medalist and Owner of Michael Johnson Performance, and Lance Walker, the Director of Performance for Michael Johnson Performance, will cover a wide range of topics during the intensive webinar, including:

The general concepts of linear speed training (e.g., acceleration, absolute speed mechanics.)
The newest methods that coaches, athletic trainers, physical therapists and performance trainers can use pertaining to aquatic training as an effective modality for teaching and improving speed in athletes.
The proper ways to work on linear speed improvement with individuals of all levels, from the recreational workout enthusiast to the professional athlete.
Johnson, an Olympic track and field gold medalist, established a record of 13 Olympic and World Championship medals during his 11-year career. He became known as the "Fastest Man in the World" in 1996, after completing the historic 200/400- meter Olympic double. After his retirement in 2001, Michael opened Michael Johnson Performance with a mission to help athletes of all ages and all sports reach their full potential, using the same training philosophy and training techniques he used as an athlete.
Walker, a Certified Strength and Conditioning Specialist (NSCA) and a Registered Physical Therapist in the state of Texas, previously served as Director of Performance Training at Integrated Athletic Development. He also served three seasons as Assistant Strength and Conditioning Coach with the Dallas Cowboys. Walker has contributed to over 10 professional publications in sports science and presented at more than 15 national conferences.
Use of Aquatics for Improving Linear Speed Mechanics will be geared toward athletic trainers, international physiotherapists, sports performance specialists, strength and conditioning coaches, and track coaches. However, anyone interested in linear speed improvement through the use of aquatics using an underwater treadmill with variable-speed jets is welcome attend.
For more information or to register for Use of Aquatics for Improving Linear Speed Mechanics, visit http://ww2.hydroworx.com/webinar-speed-mechanics.
About HydroWorx
HydroWorx, based in Middletown, Pennsylvania, offers a wide range of underwater treadmill pools, underwater treadmills, and peripheral products and services. Every day, over 15,000 athletes and patients use HydroWorx technology to recover from injuries and health conditions.
More information about HydroWorx's upcoming webinars, as well as archived webcasts from previous events, can be found by visiting our Webinar Schedule.