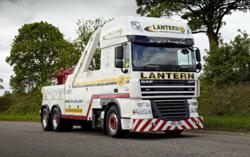 (PRWEB UK) 16 May 2013
Lantern Recovery Specialists, one of the largest independent breakdown operators in the UK, has today announced that it has renewed its contract with Masternaut, the pan-European telematics provider. Lantern, which uses Masternaut's vehicle-tracking solution to coordinate its UK fleet of recovery vehicles, made the decision to extend its partnership after reporting a marked reduction in fuel costs and a significant improvement in vehicle utilisation since installing the technology.
Delivering a bespoke around-the-clock emergency call-out service to its thousands of customers, Lantern required a tool which could increase the flexibility of its fleet while cutting down on associated fuel costs. The company chose Masternaut's technology following demonstration of the solution's ability to monitor the real-time whereabouts of each of the fleet's vehicles via remote, web-based software.
"The implementation of Masternaut's technology across our fleet has led to a number of direct business benefits," said Peter Blackmore, Corporate Manager at Lantern, "so extending our contract was not a difficult decision to make. Lantern is now able to offer an improved level of customer service thanks to a more streamlined, efficient fleet. What's more, we are saving a significant amount on fuel as a result of a reduction in unnecessary time spent on the roads by our drivers."
As part of the initial implementation, Lantern also brought on Masternaut's mobile compatibility software which enables full reports, real-time updates and customised job alerts to be delivered directly to employees' mobile devices. As breakdowns are flagged via the system, fleet managers are able to send an instant alert detailing full job descriptions to deploy the nearest driver to the incident.
As such, the technology has facilitated a reduction in waiting time for roadside recovery services, while Lantern's customer service and call centre teams now have the tools to more accurately manage customer expectations, with full visibility of the recovery vehicle's location and expected arrival time. Lantern has retained this functionality as part of the three-year contract extension.
"Masternaut's team has delivered a really excellent service," added Blackmore. "They conducted a seamless implementation, and have since remained constantly on-hand to discuss the latest innovations in the technology, and how we can be improving and developing the way we use the solution. As Lantern looks ahead to the next phase of our partnership, we look forward to further exploring these opportunities in order to get the very best out of the systems."
ENDS
Images to accompany news:
Masternaut logo
Lantern Recovery Specialists vehicle
About Masternaut:
Masternaut is Europe's largest provider of telematics solutions. With over 550 employees and more than 10,000 customers, Masternaut designs and delivers innovative mobile workforce management technologies. These products drive tangible savings and service improvements for customers and partners, across all parts of the organisation; from finance to HR, operations to customer service.
Masternaut has the largest telematics R&D team in Europe, continuously innovating to deliver the most reliable and scalable platform available. The company has over 300,000 assets, vehicles and people connected to its Software-as-a-Service solutions. Over 15,000 users interact every hour with the systems, and over 50 million data transactions are processed and configured into 20,000 reports every day.
Founded in 1996, Masternaut equips businesses and fleet operators with the tools to achieve lower fuel consumption, reduced wear and tear, greater operational efficiencies, improved management of driver behaviour, and a reduction in CO2 emissions.
With customers in 32 countries, Masternaut is headquartered in Marlow, UK, with European regional offices in France, Germany, Spain and Sweden.