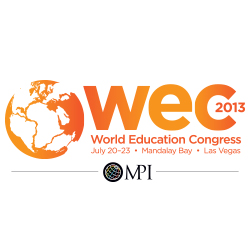 At WEC 2013, we will provide new tools, techniques and learning experiences to help meeting professionals evolve and succeed.
Dallas, Texas (PRWEB) May 15, 2013
Meeting Professionals International (MPI) will provide inspirational programming and education to help meeting professionals transform with the evolving meeting and event industry during the 2013 World Education Congress (WEC) this summer. This annual event will take place July 20-23 at the Mandalay Bay Convention Center in Las Vegas.
Hosted by MPI, WEC 2013 will feature three full days of content, from sessions that bring new ideas from both inside and outside the industry to exceptional networking opportunities for planners and suppliers. The Opening General Session will explore the transformational power of meetings with leading business experts and keynote speaker Candy Chang, a TED Senior Fellow and urban space artist and designer. Chang will share her unique approach to redefining ways in which information is shared in public spaces to improve communities. During the Final General Session, accomplished speaker and former U.S. Secretary of Labor, Alexis M. Herman will discuss transformational leadership and how to find purpose through social action.
"We recognize the meeting and event industry is changing rapidly, so MPI is also transforming to better serve our members. At WEC 2013, we will provide new tools, techniques and learning experiences to help meeting professionals evolve and succeed," explained Paul Van Deventer, president and chief executive officer of MPI. "Our goal with this year's conference is to revitalize meeting professionals so their meetings can revitalize others."
New this year, MPI has enhanced the programming with the addition of a second Flash Point session, which is a distinctive, fast paced platform of three 15-minute presentations from diverse and innovative speakers. Flash Point speakers will now also conduct Master Classes, giving interested attendees an in-depth version of their brief presentations during the Knowledge Sessions. More breaks have been added as well to give attendees extra time for networking. In addition, the education sessions have been categorized by three learning styles – specifically lecture, interactive and peer-to-peer – and are further defined by industry or outside the industry.
Education and Program Overview
MPI is committed to delivering value to members and the broader community of meeting professionals. So, WEC 2013 programming and education will address a variety of important topics, including technology and content delivery, human engagement, multi-generational audiences, sustainability, profitability, and more.
"WEC 2013 is designed to inspire, challenge and promote new thinking. We will show meeting professionals how to harness connectivity to affect real change in target audiences and the industry," added Van Deventer.
The education experience at WEC 2013 will encompass more than 60 different Knowledge Sessions, including new Sunset Sessions scheduled during the evenings. In addition, MPI is offering several pre-conference workshops such as the Core Skills Workshop and CMP Workshop for those seeking additional clock hours.
Other program highlights include the following.

Hosted Buyer Program – Suppliers and qualified planners have the opportunity to meet one-on-one during pre-arranged appointments prior to the official start of the conference.
MarketSquare – In this area, attendees can learn more about new technologies, products and services from industry suppliers.
RISE Awards Luncheon – The 2013 Recognizing Industry Success and Excellence (RISE) Awards will honor four recipients selected this year for exceptional achievements in leadership and community initiatives.
Helping Hands Community Service Project – During this philanthropic team-building program, attendees work together to build prosthetic hands that will be distributed to amputees in developing countries.
Dierks Bentley Performance – The award-winning, American country music artist will perform his most popular songs during the Closing Reception.
The MPI Foundation will host three fundraising events: the Players Golf Tournament; The Big Deal, an official World Series of Poker® satellite tournament; and Rendezvous, the foundation's signature networking event. All of these initiatives as well as the MPI Foundation Silent Auction will help raise funds in support of research and education initiatives that shape the future and bring success to the meeting and event community.
For more information or to register for WEC 2013, please visit http://www.mpiweb.org/wec.
About MPI
Meeting Professionals International (MPI) is the largest and most vibrant global meeting and event industry association. The organization helps its members thrive by building human connections through knowledge and ideas, relationships, and marketplaces. MPI membership is comprised of approximately 20,000 members belonging to 71 chapters and clubs worldwide. For additional information or to join, visit http://www.mpiweb.org.