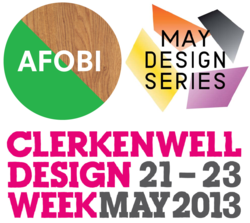 We specialise in bespoke furniture so both events are unmissable.
London, England (PRWEB UK) 16 May 2013
The May Design Series takes place in the London ExCel Exhibition centre. This giant venue will be home to the four simultaneous trade exhibitions including: The Arc Show for lighting; Kbb LDN for Bespoke Kitchens, fitted bathroom units and inbuilt wardrobes; Interiors London for high-end interior design; and DX where technology and furniture combine.
AFOBI London furniture shops will be attending all four events. "For AFOBI the two most important events are Kbb LDN and Interiors London. We specialise in bespoke furniture so both events are unmissable. We will be opening a showroom later in the year so lighting is important and everyone loves to see new technology. We want to go to all four events," explains Zack Newman, company director.
Kbb LDN offers a large collection of innovative and creative products for kitchens, bedrooms and bathrooms. The event is attended by the very best international and British manufacturers. Visitors to the event will be the first to see the latest product launches from all over the world. Interiors London was created specifically for the May Design Series event. In this exhibition, there will be international furniture designers for the middle to high-end market. With more than 600 exhibitors, this is an important place for emerging talent to get noticed as well as revealing the new creations from established brands.
Clerkenwell is internationally renowned as a centre for design. This small corner of north London is home to designers of the trendiest websites, furniture, clothing, houses and even Olympic stadiums. With more than 30,000 registered participants and over 150 international brands, Clerkenwell Design Week is one of the most important events in the annual design calendar. "AFOBI has kitchens to design and furniture to deliver but we can't miss Clerkenwell design week," comments Zack Newman, director of AFOBI, "the event is a great place to be inspired by interior design and to meet like-minded sustainable furniture companies. We are particularly interested in the Nature Inspired Design exhibition."
The 'Nature Inspired Design' exhibition is one of the most popular features of the Clerkenwell Design Week. The exhibition looks at the rising importance of social impact and environmental sustainability on design. The designers will also reveal how they use nature as an inspiration for their creations. This theme strikes a cord with AFOBI, "We try to source all our furniture from suppliers that use Forest Stewardship Council controlled timber," comments Zack Newman. "As a former forester myself I feel that responsible and ethical forest management is one of the most important challenges that our planet faces." Next week will clearly be a busy week for AFOBI.
Notes to Editors
Information on May Design Series - http://www.maydesignseries.com/
Information on Clerkenwell Design Week - http://www.clerkenwelldesignweek.com/