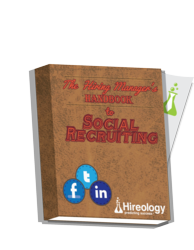 Job-seekers from every generation are taking to social networks to look for jobs... -- Morgan Gleasman, Hireology's recruiting manager
Chicago, Ill (PRWEB) May 15, 2013
Hireology, the leading selection management platform, has released an eBook about social recruiting trends. The "Hiring Manager's Handbook to Social Recruiting" takes readers through the most popular social networking websites and explains how to use their functionality to the greatest benefit.
Starting with LinkedIn and moving to Twitter and Facebook, the eBook outlines the basic features of each site then delves into the most effective recruiting techniques. With more candidates taking to social networks to search for jobs, the need for hiring managers to understand and utilize these technologies is imperative.
"Many people think it's just 'college-kids' who are looking for jobs on Facebook and Twitter," said Morgan Gleasman, Hireology's recruiting manager. "That's simply not the case. Job-seekers from every generation are taking to social networks to look for jobs, and hiring managers need to understand the best ways to appeal to these individuals in order to have a well-qualified candidate pool."
Because the primary job-seekers on each of these social networks differ, hiring managers need to be aware of the approach they take to each site. This eBook explains how to gauge the job-seeking audience in order to determine how to most effectively recruit.
About Hireology
Hireology's award-winning Selection Management System helps companies organize their hiring process and leverage data to make better hiring decisions. Franchise systems, banks and financial institutions, healthcare systems, dealer networks, and other multi-site operators use Hireology's web-based Selection Manager™ to deliver consistent and repeatable hiring decisions in the field - leading to better hiring decisions, lower turnover, and increased profitability per location. For more information, please visit http://www.Hireology.com.