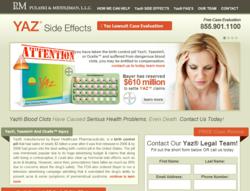 We created the YazSideEffects.com website to help those that have suffered from Yaz related injuries receive the compensation they deserve
Boca Raton, FL (PRWEB) May 19, 2013
The legal team at Pulaski & Middleman, LLC have launched the website YazSideEffects.com in a concerted effort to connect women and families coping with the side effects of the combination birth control drugs Yaz, Yasmin & Ocella with the legal representation they need. The website offers a wealth of information on the notorious birth control drugs as well as news and updates about lawsuits against Bayer Pharmaceuticals.
Yaz, Yasmin & Ocella were very popular birth control medications when they first emerged. Studies showed that the ingredients in these drugs not only helped prevent birth, but also could help with acne and premenstrual syndrome. Since then, side effects from the use of the birth control pills Yaz, Yasmin, and Ocella have been experienced by women across the U.S.* Additionally, serious, potentially fatal side effects of Yaz, involving blood clotting, including, but not limited to, Pulmonary Embolisms, Deep Vein Thrombosis, Strokes and Heart Attacks have been reported in women with no prior history of blood clotting disorders***.
Due to the serious side effects of Yaz, Yasmin & Ocella, thousands of lawsuits have been brought against Bayer Pharmaceuticals. Currently, there are over 10,000 Yaz related lawsuits pending. To date, Bayer has reportedly paid out over $1 Billion in damages**.
The legal team at Pulaski & Middleman, LLC are specialists in Yaz, Yasmin & Ocella lawsuits. In an effort to give plaintiffs an easy route to legal assistance, they commissioned the website YazSideEffects.com. The website not only gives those suffering from serious Yaz side effects an easy way to connect with a Yaz side effects lawyer but also doubles almost as a research hub; housing information relating to warning signs, Yaz side effects and the legal process.
A spokesperson for the company commented: "Finding legal representation you can be a daunting task, and in our experience, our clients don't need any more difficulties in their lives than they already have. We created the YazSideEffects.com website to help those that have suffered from Yaz related injuries receive the compensation they deserve and find the answers they need to get their lives back on track."
For more information about Yaz side effects or Yaz injury litigation visit: http://www.yazsideeffects.com.
*Bayer HealthCare - Bayer Schering Pharma AG 8/5/09, http://www.fda.gov/ICECI/EnforcementActions/WarningLetters/ucm182206.htm, August 5, 2009
**Bayer 2012 Annual Report, Consolidated Financial Statement, Legal Notes, February 28, 2013
***Business Development and Legal Notes section, Bayer Interim Financial Statement, September 30, 2012.