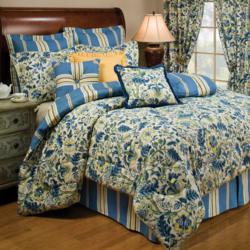 help transform the most difficult bedroom decor into the perfect traditional or contemporary space
New York, NY (PRWEB) May 24, 2013
Floral patterns are commonly chosen when decorating a home, and can help transform the most difficult bedroom decor into the perfect traditional or contemporary space. The way floral patterns are incorporated into a decorating project, however, can completely change the overall look of the bedroom. Ellery Homestyles, a leader in home fashion, shares suggestions for adding floral bedding collections to help achieve a balance between color and pattern in the bedroom.
Timeless brands, like Waverly, offer a unique blend of bold floral patterns, bright accents and reversible versatility, allowing a host of design options for creating a coordinated bedroom. When choosing an intricate floral pattern, it is helpful to consider reversible comforter or quilt options that allow for a quick and easy decor change. Often, floral bedding ensembles will incorporate stripes and solids to enhance the design and make a bold statement. Choose two colors within the floral and reversible pattern for coordinating accessories and sheets that complete the look.
Simple decorative pillows and solid bed skirts can accent an elaborate pattern when simplicity is desired. Conversely, pillows and window treatments in coordinating florals create and more traditional and lavish style.
For more information, please visit Ellery Homestyles.