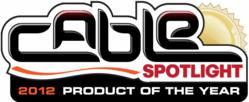 "We are so pleased to receive this award and, in turn, want to recognize our customers, who are the ones using the product to transform their viewers' experience." Peter Low, Ensequence Chief Executive Officer
New York, NY (PRWEB) May 16, 2013
Ensequence announced today that iTV Manager Service Provider Edition has received a 2012 Cable Spotlight Product of the Year Award from Cable.TMCnet.com, a Technology Marketing Corporation (TMC) sponsored cable technology website. Cable Spotlight is the leading website dedicated to cable technologies. Recipients of the 2012 Spotlight awards represent the most innovative cable technology solutions of 2012.
iTV Manager Service Provider Edition powers local interactive advertising at scale using Ensequence's patented technology. The product allows clients such as Comcast Spotlight and Time Warner Cable to significantly reduce the cost and complexity of delivering interactive advertising, resulting in quick, easy and affordable deployment.
"The cable providers are doing some pretty innovative things with iTV Manager Service Provider Edition, including actionable local TV ads. We are so pleased to receive this award and, in turn, want to recognize our customers, who are the ones using the product to transform their viewers' experience," said Peter Low, Ensequence Chief Executive Officer.
"It is my pleasure to recognize Ensequence with a Cable Spotlight Product of the Year Award for its contribution to the advancement of cable technology solutions," said Rich Tehrani, CEO, TMC. "I look forward to seeing more innovation from Ensequence in the coming year."
Winners are published on Cable.TMCnet.com as well as TMCnet.com.
About Ensequence
Ensequence provides a suite of advanced products that allow programmers, service providers and advertisers to drive deeper engagement, increases in programming ratings, advertising effectiveness and new ad opportunities across cable, satellite, telco and connected devices. Ensequence's customers include the largest and most innovative programmers and service providers in the media industry: NBCUniversal, Viacom Media Networks, Showtime Networks, Turner Broadcasting, HBO, QVC, WE tv, MSG, Fuse, Comcast, Time Warner Cable, DISH Network and Verizon. In addition, Ensequence is deployed on multiple connected device platforms. Ensequence's lead investor is Myrian Capital (http://www.myriancapital.com) , a growth capital management firm with investments in video communications, mobile media and advanced advertising solutions. To learn more, visit http://www.ensequence.com and follow Ensequence on Twitter.
About TMC:
TMC is a global, integrated media company that supports clients' goals by building communities in print, online, and face to face. TMC publishes multiple magazines including Cloud Computing, M2M Evolution, Customer, and Internet Telephony. TMCnet is the leading source of news and articles for the communications and technology industries, and is read by as many as 1.5 million unique visitors monthly. TMC produces a variety of trade events, including ITEXPO, the world's leading B2B communications event, as well as industry events: 3D Printing Conference & Expo; Asterisk World; AstriCon; (CVx) ChannelVision Expo; Cloud4SMB Expo; DevCon5 - HTML5 & Mobile App Developers Conference; M2M Evolution Conference & Expo; Mobile Commerce Zone Conference & Expo; SecureIT; StartupCamp; Super Wi-Fi Summit; SIP Trunking-Unified Communications (News - Alert) Seminars; Wearable Tech Conference & Expo; WebRTC Conference & Expo; and more. Visit TMC Events for additional information.
Media Contacts:
Ensequence
Lynda Radosevich
917-922-7020
lynda(at)saystrategic(dot)com
TMC
Drew Stoga
Marketing Manager
203-852-6800, ext. 175
dstoga(at)tmcnet(dot)com