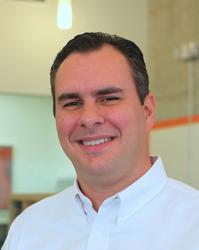 "We want to fix a $100 billion a year problem."
Coral Gables, FL (PRWEB) May 16, 2013
"If you have ever done a contract for business, it's a pain," says Emil Stefanutti, ContractRoom founder and chief executive officer. "Contract negotiation and management is complex and labor-intensive and there are a lot of errors. These inefficiencies cost companies over $100 billion in missed savings. You could say we want to fix a $100 billion dollar a year problem."
"Our technology provides one digital platform for all people in the negotiation," says John Daly, ContractRoom founder and chairman. "Unlike e-signature and contract management tools that automate the paper process, our solution is completely digital. And since we are data-based, our system gathers transaction data, analyzes it, and pushes information to users so deals close faster and improve management's control."
Product Overview:
Each Contract Room is a unique, secure, negotiation environment that allows users to create, collaborate, approve, and sign a legally binding document in real time. ContractRoom is based on data, not on paper, so deals are done faster, with fewer costly mistakes and less legal risk.

Negotiations made simple: Create a contract or agreement offer - negotiate alone or with a team. Since ContractRoom is online, invite the counterparty to negotiate too, anywhere, anytime.
ContractRoom does the dirty work: ContractRoom watchdogs approvals, tracking when team members agree and when the counterparty can review. And, the system speeds signing by prompting those responsible to sign documents and then archiving when they are done. Plus, there's a complete historical record of who made changes and when. (Good news if you get audited or you need a case file later.)
No More Spreadsheets: No more sales pipeline, productivity, deadline, renewal reports (and more). ContractRoom gathers and analyzes transaction data providing real-time reporting for better business control.
Workflow Management: ContractRoom pushes information into the enterprise with alerts and predefined messages for seamless integration with existing systems.
Pricing and Availability:
To begin using ContractRoom, upload documents for conversion at http://www.contractroom.com. Company licenses are required. Monthly charges are $65-$99/Month per user. See http://www.contractroom.com/pricing.html for pricing information.
About ContractRoom:
ContractRoom is the first-ever, collaborative, business negotiation management solution. ContractRoom transforms the complex, paper-laden negotiation and contracting process with a singular digital platform for seamless collaboration. And, since the system is data rather than paper-driven, ContractRoom replaces the manual tasks and management that create billions of dollars in contract errors annually. Plus, as ContractRoom gathers transaction data, the software analyzes and pushes information to users to help deals close faster, reduce expenses, and improve control over business.
ContractRoom allows any contract or agreement to be negotiated, signed, stored, accessed, and managed, with anyone, anywhere, anytime, and in any language. For more information visit http://www.contractroom.com.