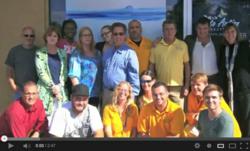 New Fitness Evaluations at Into Action Drug and Alcohol Rehab Center in Florida.
Miami, Florida (PRWEB) May 16, 2013
Into Action Alcohol Treatment Center is now offering custom exercise and fitness evaluations for all of their clients with a certified personal trainer. This will help their clients live an even healthier life and integrate physical exercise into their new life of recovery.
One of the most important aspects of early recovery is integrating healthy behaviors to replace the destructive behaviors that come with active addiction. During a lifestyle of active addiction, most people completely abandon healthy life choices and at Into Action Drug Rehab in South Florida, they are doing everything they can to help their clients build healthy life skills to manage life on life's terms. A huge part of this is being active in a physical fitness program and also eating healthy.
Into Action Treatment has recently started a morning exercise program for their clients and this addition will only help improve their clients' lives in recovery. Andrey Rossin is the founder of alcohol and drug rehab facility and he had this to say about the new fitness evaluations being offered to their clients, "We have found that being active in early recovery greatly increases not only our clients' overall well-being but also their long term recovery chances. We want to offer as many healthy life choices as we can to our clients, and being physically active and fit is a huge part of this. At Into Action Treatment Center, we want to setup our clients up for success and enjoy a life of recovery from addiction."
Into Action Treatment is a small 24 bed coed Florida drug rehab center located in Boynton Beach. Into Action is a very unique center, which focuses on long term recovery for addicts and alcoholics. Most treatment centers in the industry are 28 days, however Into Action is a minimum of 45 days, while most clients who complete the program end up staying over 90 days, even if their insurance money has run out. For more information on Into Action Treatment and how they can help those affected with addiction, visit their website at http://www.intoactiontreatment.com, or call their 24 hour hotline at 1-855-933-6732 for free addiction advice and treatment options.