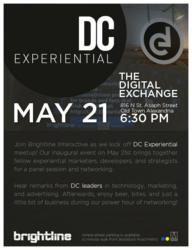 We've pulled together some of the brightest minds in DC experiential marketing and development.
Old Town Alexandria, VA (PRWEB) May 15, 2013
Brightline Interactive announces the lineup of speakers for the inaugural DC Experiential meetup, to be held May 21st at the Digital Exchange. Erik Muendel, CEO and Creative Director of Brightline Interactive, will be moderating the panel of speakers, which will feature DJ Saul of iStrategyLabs, Megan Malli of Huge, and Breeanna Beckham of Carousel 30.
The meetup will take place Tuesday, May 21st at the Digital Exchange, a studio annex across the street from Brightline's Headquarters, at 816 North St. Asaph Street in Old Town Alexandria. The location is a 10-minute walk from Braddock Road metro, and ample parking is available on-site.
To RSVP, click here.
DC Experiential is engaging, educating and exciting the Washington, DC metro area with the latest and greatest of digital and experiential event marketing. Through parties, discussions, and presentations, DC Experiential will focus on all elements of experiential marketing. The group is free and open to all who are active in the digital, technology, advertising, and marketing space.
"We've pulled together some of the brightest minds in DC experiential marketing and development," began Erik, adding, "whether you're a mobile developer, a social media strategist, a brand marketer, or a designer, this meetup will be a great opportunity to hear from industry experts, and meet rising stars in experiential marketing."
About the speakers:
Erik Muendel has been a national leader in the digital marketing industry for over 17 years. Since founding Brightline Interactive, Erik has provided the creative direction and technical understanding that has established Brightline as a national leader in the digital and experiential marketing space. Erik's leadership and vision cut across platforms - mobile, web, installations, and live events all converge, providing award-winning solutions for clients and brands including 5-hour ENERGY, the National Guard, AT&T, Pepsi and the National Park Service. Erik is an alumnus of James Madison University.
DJ Saul is the CMO of iStrategyLabs, focusing on internal products, while exploring new partnerships & opportunities for iSL and its team members. DJ brands, markets, and creates experiences that launch companies, sell products, and connects people and organizations with what they need to succeed. He is a co-organizer for the DC Tech Meetup and is a DC Ambassador for Sandbox, a Zurich-based group of 800+ inspirational leaders from over 60 countries, under the age of 30.
Megan Malli recently joined the Huge Washington, D.C., office as an Engagement Director. Prior to Huge, Megan was a Sr. Account Director at MXM Social where she led social engagements for Samsung and Stride Rite. Megan previously served as the Account Director at AKQA, D.C., on the Volkswagen mobile engagement, overseeing the mobile site redesign and the development of the Golf R launch campaign. Prior to moving to DC in 2011, Megan worked at Moxie Interactive in Atlanta, GA, where she designed and developed sponsorship integration strategies for Verizon Wireless, including the NFL and NHL partnerships. She also oversaw VzW eCRM and Internet Sales programs. Megan graduated from Carnegie Mellon University with both her undergraduate and masters degrees in international marketing and management.
Breeanna Beckham brings a thorough understanding of online communication principles and practices to Carousel30, which complements her traditional integrated marketing communications background. She has been a guest speaker at Advertising Week D.C., Internet Week New York and the George Mason Lunch & Learn, and has been active in such events as Digital Capital Week.
About Brightline Interactive
Brightline Interactive is an award-winning, multi-discipline digital services agency that delivers creative solutions for web, mobile and experiential environments. Based in Alexandria, Virginia, Brightline develops, delivers, and promotes branded solutions for both the public and private sectors by blending creativity and expertise of any and all media and technology available.