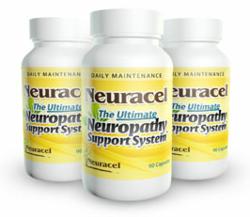 Boise, Idaho (PRWEB) May 15, 2013
Peripheral Neuropathy, a type of neuropathy that causes pain in the arms and legs, is not always completely understood. According to the findings of the Columbia University Medical Center at http://goo.gl/sReYD, misdiagnosis is rife in the neuropathy world as doctors often mistake the condition with other issues. Due to misdiagnosis, the treatments that exist for Peripheral Neuropathy do not perform the basic functions they should. Moreover, since doctors do not understand the problem, they prescribe pain relieving medications that only provide short term relief. However, with the introduction of Neuracel, Peripheral Neuropathy patients now have the option of choosing a natural treatment that is both safe and effective in treating peripheral neuropathy.
Neuracel – How does it Treat Neuropathy?
The primary ingredients that make the basis of Neuracel offer support and provide nourishment to the damaged nerve tissues and the nerve cells. More often than not, the treatments that already exist for neuropathy focus more on the short term issues. Pain relief is just another short term remedy, one that does not make neuropathy any less intense. However, the manufacturers of Neuracel have focused on creating a product that addresses not only the symptoms, but also the factors that can lead to neuropathy. The overwhelming product also works to reverse the damage caused by neuropathy.
Experts at Neuracel ensure that the product is easy to use so that once patients start off with the treatment they can keep on using it to obtain maximum results. Therefore, starting with a Neuracel regimen is easy as an intake of only a single capsule, made of complete natural herbs, is all that is required daily.
About the Company
Neuracel comes with a 100% satisfaction guarantee, which is a hallmark of its quality and effectiveness. Moreover, the manufacturer offers a free trial and a 30 day money back guarantee at https://neuracel.com/specialoffer.php and this is in addition to a host of different deals and offers. For more information about Neuracel and its various other products, visit http://www.neuracel.com/specialoffer.php#ic.