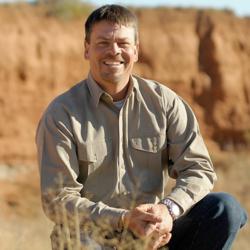 Absolutely the best seminar I have ever taken. Ronnie Smith has an easy and approachable way about him and is an outstanding teacher. Couldn't be happier!
Hudson, CO (PRWEB) May 17, 2013
Dogs Unlimited hosted the HuntSmith Intermediate Seminar, a 4-day bird dog training extravaganza presented by Ronnie Smith which started on May 9 and concluded on May 12th, 2013. It started with a meet and greet at Dogs Unlimited's hunting dog training grounds with Ronnie meeting all of the eager participants. During this time he spoke in-depth to each student about their progress with their dog following the basic Foundation Seminar training that's a prerequisite for each participant to be enrolled in the Intermediate Seminar.
After careful evaluation and lots of note taking, Ronnie Smith gave a short synopsis of what was going to happen during the rest of the seminar and what to expect out of each participant and their dog.
Ronnie Smith says, "It's important that each Intermediate Seminar participant has taken the HuntSmith Foundation Seminar. Our system is based on a series of building blocks and while a dog can enter our system at the Intermediate level their gun dog training will break down over time because they don't have the necessary foundation to work with."
During the seminar the participants and their hunting dogs learned the necessary tools to move on to the next level during in-field discussion and exhibition dog training by Ronnie and then did hands-on training with their own gun dogs guided by his skilled and watchful eye.
Alan O. Davison of Dogs Unlimited, who's participated in both the HuntSmith Foundation and Intermediate Seminars says, "There's no better way to learn than first by listening to Rick Smith or Ronnie Smith impart their incredible depth of bird dog training knowledge and then watching them demonstrate that wisdom on one of your dogs with the expertise of someone who's been doing it all of their lives. And finally moving to the field and doing it yourself while being personally coached by them."
As the seminar progressed, more skills and knowledge were passed from Ronnie Smith to the participant and then on to their dogs. The progress was immediate and it was evident by the exuberance of each participant that the summer and early fall was going to be filled with many training days in preparation for the upcoming upland bird hunting season and for many seasons to come.
Davison says, "I'm always dog tired at the end of these seminars but it's definitely a good tired. Not only have we walked for what seems like miles and miles but the amount of dog training information the participants take in is incredible as well. Our brains are tired too!"
Continuing on, Davison says, "You couldn't ask for a better seminar experience put on by a better presenter than Ronnie Smith. Dogs Unlimited is proud to be on the HuntSmith Seminar schedule and we look forward to many years of this great relationship."
Dogs Unlimited LLC was started in 1971. Located in Hudson, Colorado, they sell hunting dog training supplies, and upland and waterfowl hunting gear throughout the world. They have hosted the HuntSmith Foundation and Intermediate Seminars since 2007.