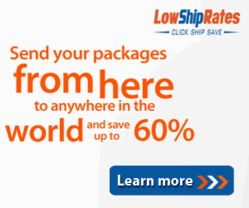 Lowshiprates.com is the best thing that's happen to my business. I've saved over 40% since I started using them to ship my packages.
Englewood Cliff, NJ (PRWEB) May 15, 2013
LowShipRates.com, formerly NYParcel.com Shipping Services, is re-launching in 2013 with a new name, better services and bigger discounts. LowShipRates.com is launching even better shipping and logistics services at even lower rates.
LowShipRates.com entered the small business shipping industry market as NYParcel.com Shipping Services in 2012 and quickly made a name for itself with its low rates and excellent customer service. Clients enjoyed discount shipping of up to 60 percent on their local and international shipment compared to shipping giants FedEx, UPS and DHL. Their complete range of services included domestic same-day shipping, international shipping, ocean freight services and more.
As of early January 2013, NYParcel.com has become LowShipRates.com, or LSR. Despite the name change, they are still the same service provider run by the same management with the same passion for premium customer service and the best customer experience on every business transaction. With this new name comes an even wider range of shipping solutions available for small and medium size businesses and people with loved ones living overseas. LowShipRates.com is committed to providing the same services as its bigger competitors, only at a lower price and without the hassle of contracts or obligations.
LowShipRates.com also desires to make every customer transaction very personalized. Each service can be tailored to every client's own specifications and requests. Whether it's a business transaction or a personal one, LowShipRates.com values the importance of each package to its clients and the assurance of its safe and on-time delivery of every order.
With guaranteed deliveries, clients save time and effort studying the shipping process just to make sure their cargo arrives on time and in good condition. LowShipRates.com's customers can be assured of the utmost care from the very moment packages and cargos are turned over until they reach their final destination.
Find out more about LowShipRates.com by visiting their website or calling their office at 866-293-1540 to speak with their customer care staff and discuss which service best fits their needs and budget.
About the company:
Every business is different, which is why every business needs LowShipRates.com. They understand that the one-size-fits-all approach doesn't work with shipping, so they make sure every client receives specialized shipping solutions that are designed to reduce overhead and ensure that shipments are always on time. LSR has a professional team that delivers quality customer service at all times. They strive for 100 percent customer satisfaction. Find out more at http://www.lowshiprates.com.