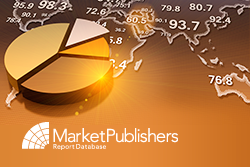 London, UK (PRWEB) May 15, 2013
The meat consumption in the U.S. has been declining for nearly one decade due to increasing health concerns and unfavorable economic conditions. Recently, the demand for poultry and plant-based meat substitutes has grown considerably given the rising health awareness and economic difficulties. Nevertheless, red meat still accounts for nearly 55 percent of the total U.S. meat consumption.
The country's total production of meat and poultry products exceeded 92 billion pounds in 2011, and registered growth by 200 million pounds y-o-y. In terms of value, US meat and poultry sales grew from approximately USD 74 billion in 2008 to almost USD 86 billion in 2012. Furthermore, sales are expected to override a USD 98 billion mark by 2017. The market growth is likely to be driven by the economic recovery.
Research report "Meat and Poultry Trends in the U.S." created by Packaged Facts has been recently published by Market Publishers Ltd.
Report Details:
Title: Meat and Poultry Trends in the U.S.
Published: April, 2013
Pages: 182
Price: US$ 3,750.00
http://marketpublishers.com/report/food/meat/meat-n-poultry-trends-in-us.html
The report presents an insightful analysis of the US meat and poultry market. It provides extensive market overview, reviews existing products, describes country's regulation in the sphere, and examines distribution channels. The research scrutinizes major factors influencing the market; outlines market opportunities and challenges. The study discloses data on the market size and value; examines industry segments; delves into the competitive landscape and profiles prominent players. The report characterizes product trends and opportunities; sheds light on retail and foodservice trends; highlights changes in consumer trends. In addition, the future market outlook through 2017 is available in the report.
Reasons to Buy:

The report extends one's knowledge of the US meat and poultry industry by providing cutting-edge information on the industry performance and describing market development trends in detail.
Vital data on existing products, distribution channels and industry regulations assist in effective strategy-planning.
Essential information on consumer trends will assist new product development.
Comprehensive assessment of the competitive landscape helps to gain an advantage over other market players.
Overview of the prominent companies' performance facilitates the choice of prospective partners.
Review of the market segments and examination of the main factors driving the market allow one to determine the most promising market segments and make right business decisions.
Future forecast shows how the market is set to develop in the upcoming years.
More research reports by the publisher can be found at Packaged Facts page.