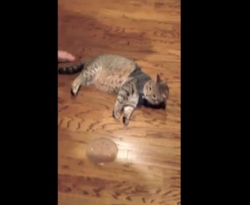 We have found online, or received literally thousands of videos from our customers since we first introduced the product
Durham, NC (PRWEB) May 16, 2013
A video that posted to YouTube.com last year has recently gone viral, the way so many great videos do organically online. In it, one "scaredy cat" tries on his new ThunderShirt for the very first time, and immediately freezes, then flops. The cat's owners try repeatedly to stand him back up, nearly a dozen times during the hilarious video, but the reaction is always the same- freeze, followed by flop.
The video not only got attention from online and pet video fans (with more than 400,000 views to date), but national and local media affiliates also broadcast the story.
"We have found online, or received literally thousands of videos from our customers since we first introduced the product," said Phil Blizzard, founder of the ThunderShirt. "But this one in particular caught our eye last year, and it's amazing to see how it's really exploded in popularity just over night!"
The video, titled "Hilarious hypnotized cat in shirt" can be viewed here: http://www.youtube.com/watch?v=QOcfS7xwVfY
So, What's Stressing Out Our Cats?
Many cats suffer from anxiety caused by situations like vet visits, car travel, grooming, litter box "problems", separation anxiety and more. When cats become stressed or anxious, they claw, scratch and can be very difficult to handle in general. The award winning ThunderShirt for Cats is unique in that it applies a gentle, constant pressure that calms cats; similar to the effect swaddling has on a newborn baby. This all-natural, simple solution is safe, effective, and highly recommended and endorsed by veterinarians, behaviorists and cat training experts nationwide.
"Perhaps the most common feedback we hear on this product is from veterinarians, thanking us for creating an easy to use, safe product that helps get more cats and their parents to their veterinarian's office in the first place," Blizzard said.
According to the American Association of Feline Practitioners (AAFP), 60% of cat owners report that their cat hates going to the veterinarian; 38% of cat owners report that they themselves get stressed just thinking about bringing their cat to the vets!
The ThunderShirt "Freeze & Flop" Explained
"When first wearing a ThunderShirt, some cats may freeze and remain immobilized and may even "fall over"," said Sandy Robins, Pet Lifestyle Expert and Author of "For the Love of Cats". "This is a normal, very safe first reaction. The ThunderShirt is not causing discomfort; cats are not used to being dressed and need time to adjust to feeling "swaddled" by the shirt."
Cats are amazingly sensitive to touch and sometimes require a little more adjustment time in the beginning. If a cat initially appears uncomfortable or does the "Freeze & Flop", ThunderShirt recommends the following:

Put the ThunderShirt onto your cat with very light pressure, and for 5 to 10 minutes
Try to engage your cat in play with a favorite toy or a laser pointer.
If your cat continues to look uncomfortable or still refuses to move freely, remove the ThunderShirt for a short period and then repeat the process two to three times. If still no success, try repeating the process with longer breaks in between (e.g. wait a day and then retry). It can take some getting used to, but their reaction is evidence that the product is working correctly.
How the ThunderShirt Works
With its patented design, the ThunderShirt for Cats applies gentle, constant pressure to the torso which has a dramatic calming effect for cats if they are anxious or fearful. Anxiety experts believe that pressure has a calming effect on the nervous system and may release calming hormones like endorphins or oxytocins.
"Using pressure to relieve anxiety has been a common practice for years," Blizzard said. "Our products are extensively tested and reviewed by animal experts, and has proven results with an over 80% effective rate."
Available in sizes small, medium and large, the ThunderShirt for Cats comes in Heather Grey and can even be personalized with custom embroidery for an additional charge.
Retailing for $39.95, the ThunderShirt for Cats can be purchased online at http://www.ThunderShirtForCats.com or at a variety of pet retail and specialty stores nationwide. If you are a member of the media, and would like more information about the ThunderShirt for Cats, please contact Kerry Sutherland at K. Sutherland PR, Kerry(at)ksutherlandpr(dot)com or 949-328-4895.
About ThunderShirt
Founded in 2009 in Durham, N.C., ThunderShirt's mission is to bring relief to the millions of dogs, cats and their families struggling to cope with anxieties. The ThunderShirt is designed to apply a constant, gentle pressure to a dog or cat's torso creating a dramatic calming effect for most users. ThunderShirt continues to investigate anxiety and fear issues with scientific-based studies and surveys from recognized veterinarians and pet owners. ThunderShirt has already helped hundreds of thousands of dogs across the country and around the world.
The company also donates thousands of ThunderShirts and funding to rescue groups and shelters to help these organizations manage their anxiety cases and find permanent homes. ThunderShirts are sold online at http://www.thundershirt.com and by retail stores, veterinarians, trainers and kennels across the country.
Online: thundershirt.com
Facebook: facebook.com/ThunderShirt
Twitter: @ThunderShirt
Pinterest: pinterest.com/ThunderShirt
Meet ThunderWorks
In recognition of the company's expanding product line into more anxiety solutions, ThunderShirt has changed its corporate name to ThunderWorks. As always, the company is committed to developing calming pet products that are effective, simple to use and strengthen the bond between pet and pet parent. Together, let's be better humans to our pets. Learn more at http://www.ThunderWorks.com.