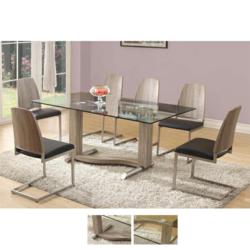 (PRWEB UK) 17 May 2013
FurnitureInFashion, globally known for its spreading collection of home furniture, has officially launched the latest addition of Manta dining table in glass dining tables. Customers can now add contemporary ambience to their dining room by incorporating this stunning and unique Manta dining table. FurnitureInFashion is continuously extending its dining table catalogue and offers dining tables in different finishes including wood, glass and marble. Manta dining table set is a stunning fusion of Italian design concept. It combines glass and stunning oak finish to give a unique and luxurious look to the overall décor of the dining room.
Manta dining room set is a modern addition to the dining room furniture range with 6 modern Manta dining room chairs. Manta dining table with glass table top and stunning oak finish gives a perfect design. A 12 mm tempered glass is used at the table top in Manta dining table. The table can easily accommodate six people. The six chairs with Manta dining table are available in Oak finish with black seat. The fusion of black seat and oak finish in Manta chairs make this dining table set ideal for contemporary and modern dining room. To provide extra comfort during mealtimes, quality padding has been included in the Manta dining chairs. Quality steel has been used to provide support to the Manta dining chairs.
Manta dining table range adds warmth, perfectly fits with any existing room concept and is particularly suitable for everyday life. Meticulously crafted, the Manta dining table set not only looks good but also guarantees durability. Substantial glass thickness and oak finish of the Manta dining table reflect the high quality and ensure maximum stability when many guests are sitting around it. This table is, therefore, a perfect partner for all occasions. Manta dining table and chairs can be combined with any decoration and is easy to be taken care of. The stylish Manta chairs of 46 cm width, 55 cm depth and 94 cm height create a striking contrast to the simple and clean series of the dining table.
The Managing Director and CEO of FurnitureInFashion said, "FurnitureInFashion quite frequently comes up with new additions in the product range as the company wants to be in line with the prevailing customer's taste and preferences and the market trends. The company ensures to deliver 100% flawless product range. FurnitureInFashion is trying to come up with more additions like Manta dining table that would be appreciated by the customers."
The new addition of Manta dining table and chairs in glass dining table range of FurnitureInFashion exhibits a true workmanship and perfect finish. Available for bulk and individual buyers, Manta dining table and chairs can be obtained at competitive prices. FurnitureInFashion offers a separate catalogue of dining tables and chairs. Customers can customize and personalize their dining table set by choosing dining table and dining chairs from separate catalogues.
To have a look at cheap dining tables online and to place a pre-stock order, please visit the company website today at http://www.furnitureinfashion.net. The range of cheap dining tables online at the website is huge, delivery is fast, savings are massive and the quality is guaranteed.
About FurnitureInFashion
FurnitureInFashion is a UK based online retail business. It supplies furniture items from its German based warehouse and has a showroom in Bolton, UK. The company provides everything from umbrella stand, wall art and room dividers to bedroom, bar stools and computer tables. FurnitureInFashion offers excellent free delivery within UK and has a fantastic customer service as well. For further information and details about the sale, please visit http://www.furnitureinfashion.net