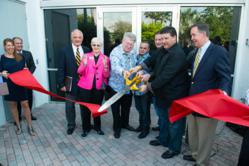 Deerfield Beach, FL (PRWEB) May 17, 2013
Insurance Care Direct is one of the nation's largest health and life insurance agencies, which has experienced exceptional growth during the past several years. This expansion will accommodate many new employees and independent agents throughout the state of Florida. The purchase of a newly renovated and remarkable two-story (15,000 square foot) facility, will readily meet the firm's ongoing growth for the next several years.
"We are very pleased by the growth of the company as we have been able to offer solid and meaningful employment during this economic downturn," said Brad Cohen, COO of Insurance Care Direct. "We will be opening eight more call centers throughout Florida in 2013," stated Cohen.
Insurance Care Direct was founded in 2004 by visionaries Arnold, Brad, and Seth Cohen who recognized the challenges and the unfulfilled needs of insurance brokers and consumers. The family owned company quickly ascended in growth by offering new, diverse, branded, and competitive products and services. In addition to offering insurance related products, Insurance Care Direct provides leads and an advanced (proprietary) technology platform for insurance professionals.
The technology platform evolved under the direction of the company's founders who were resolute in developing a simplified and scalable business model for insurance professionals. The tool is a boon for insurance agents as it facilitates the entry, retrieval, and management of information in a fraction of the time. The technology permits agents to spend less time on administrative tasks and therefore more time prospecting to build their practice.
Insurance Care Direct and its family of companies have built a large portfolio of product offerings that it distributes through a nationwide network of agencies and agents.