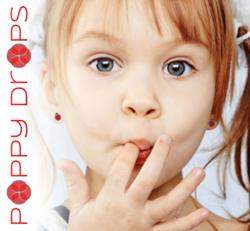 Poppy Drops set out to not only create an innovative product, lacking in the marketplace, but to also become a trusted brand for parents
Denver, CO (PRWEB) May 16, 2013
Vault, is a Boutique Marketplace featuring the most sought after designers and brands, hand-picked by the biggest names in fashion. Its newest brand, Poppy Drops, is no exception.
Poppy Drops, a brand known for its pierce-free temporary tattoo earrings, is an up and comer in the children's fashion industry. With its primary focus centered on high quality design and all-natural ingredients, savvy parents are seeking out this simple solution to a dilemma dealt with by families everyday.
When developing the line, the team at Poppy Drops set out to not only create an innovative product, that was lacking in the marketplace, but to also become a trusted brand for parents conscious about the products they buy for their little ones. Parents, not keen on piercing ears too soon, are lining up to get their hands on these long-lasting, temporary tattoos. Each of their thoughtfully designed earrings & tattoos are made with food-grade, vegetable dyes and can be simply applied with water - easy enough for kids to do all by themselves. This safe and effective alternative leaves parents with peace of mind, while giving kids all the fun associated with modern accessories, without the risks or complications associated with piercing.
While many brands & big box retailers are focused on quantity over quality, Vault is a place where members have the ability to connect with premier brands on a different, more personal level. It is a place where the most coveted, underground, unique brands are unearthed and given the platform to thrive online. Its members get a first look at hot, new inventory and private invitations to exclusive events and couldn't be happier with the shopping experience.
For more information about Vault, you can visit http://www.vau.lt.com. To learn more about Poppy Drops products or its unique story, you can visit http://www.poppydrops.com.