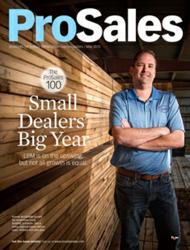 Dealers are ramping up facilities, both new and reopening shuttered ones, and adding staff and sales reps to handle the growing demand.
Washington, DC (PRWEB) May 15, 2013
America's largest pro-oriented construction supply companies saw sales rise 13.3% in 2012, all the while expanding facilities by 3.6% and growing payrolls by 7.7%, according to the latest PROSALES 100 survey results released today.
The PROSALES 100 is the premier report on construction supply companies that garner at least a third of their revenues from professional builders. Large operations that cater primarily to retail customers, such as The Home Depot, Lowe's and Menards, are excluded, thus making it possible to examine more accurately the pro-oriented side of the lumber and building material industry.
The annual report released today by Hanley Wood's PROSALES magazine found that PROSALES 100 companies sold a total of $29.74 billion worth of goods in 2012, up 13.3% from their 2011 total sales. Ninety-four of the 100 companies posted sales increases, compared to 72 in 2011. Meanwhile, only two suffered slight declines (-1% and -2%, respectively) in 2012 sales, and four reported no change. In contrast, 20 companies reported sales drop offs in 2011, some as high as 16%.
"This year's PROSALES 100 survey is evidence that dealers are staying nimble as they rescale operations to take advantage of local growth opportunities," said Hallie Busta, PROSALES' project editor and leader of the PS100 report.
PS100 members responded to growing demand for building products by opening a net 121 more facilities to push their total number of facilities to 3,475, a 3.6% increase over the previous year. They also expanded payrolls by 7.7%, bringing total industry employment to 67,868 in 2012, compared to 63,012 in 2011. The Top 10 dealers alone accounted for more than half of the increased employment adding 2,440 jobs from the year before for a 2012 total of 38,244 workers.
Nearly all dealers expect growth in new-home construction during the next five years. Of that group, 46.5%—10 percentage points more than in 2011—expect that rise to occur at a rate of at least 10% annually. "Pent up housing demand is translating into increased demand for lumber and other building materials," said Craig Webb, PROSALES' editor-in-chief. "Dealers are ramping up facilities, both new and reopening shuttered ones, and adding staff and sales reps to handle the growing demand."
ABC Supply of Beloit, Wis., maintained the No. 1 spot on the PROSALES 100 for a third consecutive year, with Denver-based ProBuild holding onto the No. 2 position. Those two companies saw a 2% and 9% increase in gross sales year over year, respectively. The next four spots also remained unchanged in the 2012 ranking: Beacon Roofing Supply of Peabody, Mass., in third; Allied Building Products of East Rutherford, N.J., in fourth; 84 Lumber of Eighty Four, Pa., in fifth; and L&W Supply—the distribution arm of Chicago-based USG Corp.—in sixth.
Two Dallas-based companies, Builders FirstSource and Roofing Supply Group, swapped positions, with BFS moving from eighth to seventh in the ranking. Stock Building Supply of Raleigh, N.C., and BMC of Boise, Idaho, rounded out the Top 10 at ninth and 10th place, respectively.
In keeping with its focus, the PROSALES 100 rankings are based on a company's sales to professional builders and contractors, not on gross sales. The average PROSALES 100 member reported getting 86% of its revenue from pros, and there were only two that got less than 50%: Central Network Retail Group, of Memphis, Tenn.; and Stine Lumber of Sulphur, La.
PROSALES 100 companies fit into three groups: traditional lumberyards that focus on selling wood and other building products; lumberyards that also have manufacturing operations, typically to build trusses and wall panels or put the final touches on door assemblies; and specialty dealers, which focus on selling a narrow variety of products, such as roofing or insulation.
One in seven PROSALES 100 members calls itself a specialty dealer, but the group accounts for 45% of the entire PROSALES 100's sales to contractors. Lumberyards with manufacturing capability comprise 59% of companies, but only 48.2% of sales. Those without manufacturing account for one-quarter of the list yet only 6.6% of the 2012 revenues.
PROSALES magazine provides residential construction companies with information, insights and advice on improving sales and service. For more information on the magazine or PROSALES 100, visit prosalesmagazine.com and click on the tab near the top marked "PROSALES 100 & Companies."
About Hanley Wood
Hanley Wood, LLC is the premier media, event, information and strategic marketing services company serving the residential, commercial design and construction industries. Through its operating platforms, the company produces award-winning digital and print publications, newsletters, websites, marquee trade shows and events, Market Intelligence data and strategic marketing solutions. The company also is North America's leading publisher of home plans.