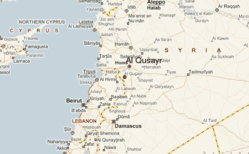 Washington DC (PRWEB) May 15, 2013
SEO is deeply troubled by reports regarding the siege of Al-Qusayr, a predominantly Sunni Muslim town of about 25,000 residents near the Syrian-Lebanese border. According to the Syrian Observatory for Human Rights, the Syrian Army, backed by pro-regime militias and Hezbollah fighters, has been steadily advancing towards Al-Qusayr.
SEE: Syria Troops, Hezbollah Advancing on Qusayr; Global Post, May 13, 2013; http://www.globalpost.com/dispatch/news/afp/130513/syria-troops-hezbollah-advancing-qusayr
"The town is under siege from all sides, with Hezbollah advancing from one direction, and the regime from the other," Syrian activist Ahmed Al-Qusair told SEO today, speaking from the town of Al-Qusayr. "Currently, we are unable to secure the safe passage of civilians to safety. Leaflets have been distributed by the regime warning that everyone must evacuate or they will be considered enemy combatants and subject to attack," said Al-Qusair.
SEE: Syrian Army Warn Civilians to Leave Qusayr; Al Arabiya, May 10, 2013; http://english.alarabiya.net/en/News/middle-east/2013/05/10/Syrian-army-warns-civilians-to-leave-Qusayr.html
"We are anticipating a massacre similar to the massacres perpetrated in Banyas and Al-Bayda earlier this month," said Mazen Hasan, SEO Chairman. "The regime has clearly been on a campaign of ethnic cleansing, emboldened by the international community's lack of meaningful action. We are urging the international community, the United Nations, and all relevant political entities to make it clear to the Assad regime that they will be held responsible for any civilian deaths in the town of Al-Qusayr. Not allowing safe passage for civilians in the face of an imminent violent siege constitutes the makings of a war crime," said Hasan. "We urgently appeal to the international community to take steps to stop the siege of Al-Qusayr before another bloody massacre takes place."
The Syrian Expatriates Organization is a leading nonprofit organization of Syrian Americans and Syrian Canadians that reflects the diversity and talent of the Syrian nation. Its mission is to support the establishment of a free and democratic Syria. In addition, the SEO provides humanitarian relief to those in need and works to promote the social, political and economic development of Syria.