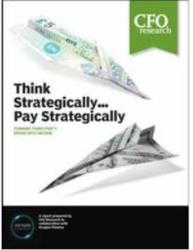 With the downturn behind them, corporate executives see renewed appeal in acquiring new assets, expanding into untested markets, and otherwise spending their cash to fund ambitious growth strategies
Boston, MA (PRWEB) May 16, 2013
As we shift from the cash hoarding "bunker mentality" of recent years into the "growth mentality" of a slowly reviving economy, corporate finance executives are looking for new ideas to generate income out of their undiscovered assets so they can continue to build the cash to fund expansion and beat the competition.
That's the conclusion of a 13-page study conducted in May 2013 by CFO Research, and underwritten by Oxygen Finance, operator of a business-to-business payments network. The full report, "Think Strategically…Pay Strategically: Turning Third-Party Spend Into Income" is available for download at http://www.cfo.com/research and http://www.oxygen-finance.com.
Based on in-depth interviews with finance executives and managers at large companies—split evenly between the U.S. and the U.K.—the research finds that corporate finance leadership is open to the idea of pursuing new ideas and initiatives in the name of making working capital gains. "Our objective for the organization is to foster thinking about where we can save money and where we can be more efficient, and not necessarily let that flow to the bottom line, but reinvest in growth through acquisitions, product innovations, and brand building," declared one CFO.
With the downturn behind them, corporate executives see renewed appeal in acquiring new assets, expanding into untested markets, and otherwise spending their cash to fund ambitious growth strategies.
To be sure, companies are looking to fund their expansion strategies in part by dipping into their cash reserves. But corporate finance executives are also interested in working with their suppliers to improve their ability to manage their cash flow.
And they are intrigued by the prospect of improving accounts payable processes by monitoring duplicate payments, minimizing late-payment fees, and—perhaps most appealing of all—taking advantage of income-producing early payment incentives that their suppliers typically offer. Even executives who have unsuccessfully tried to manage such discount and rebate programs in the past say they would be willing to do so again if they found a better system and methodology for doing so.
If organizations "think strategically" and then "pay strategically" to achieve what one CFO interviewed calls "a real win/win" with suppliers, then those organizations will be well on their way to turning the AP function from an accounting liability into a strategic asset to be tapped.
####
For Further Information:
Oxygen Finance Europe: Roberto.Moretti(at)oxygen-finance(dot)com
Oxygen Finance Americas: Egan.Christensen(at)oxygen-finance(dot)com
Oxygen Finance (oxygen-finance.com) offers a complete service which enables corporate and public sector organizations to unlock income from their spend and transform procurement and accounts payable functions into revenue generators. The company's worldwide headquarters is in London; its U.S. offices are located in San Francisco.
CFO Research (cfo.com/research), the research group at CFO Publishing LLC, a portfolio company of Seguin Partners, is the leading business-to-business media brand focused on the information needs of senior finance executives. Delivering content through multiple channels including online, digital, mobile, and print, the business consists of CFO magazine, CFO.com, CFO Research Services, CFO Learning and CFO Conferences. CFO's award-winning editorial content and loyal, influential audience make it a valued resource for its readers as well as an effective marketing partner for a wide range of blue-chip companies. CFO has long-standing relationships with nearly a million finance executives.