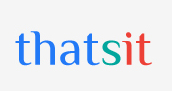 We help clients think beyond the desktop.
Dubai (PRWEB) May 19, 2013
Responsive Web Design is a web design approach to create optimal viewing experience no matter what type of device the site is being viewed on. And it's not a fab that will go away any time soon. Because of that, ThatsIt, Inc. service of Responsive Web Design is growing at leaps and bounds.
Thatsit, Inc. uses responsive web design to create websites for their clients that look great beyond the desktop computer. Because in today's world, customers are using much more than just a desktop computer to look at websites. They are using phones, tablets, and laptops and also using a number of different browsers.
"ThatsIt, Inc. helps the client think beyond the desktop and craft beautiful designs that anticipate and respond to their customers' needs no matter what type of device they are browsing on," says Nik Parekh, CEO and founder of ThatsIt, Inc.
A site designed with Responsive Web Design adapts the layout to the viewing environment with flexible images and different screen resolutions.
Ethan Marcotte coined the term responsive web design (RWD) in a May 2010 article in A List Apart Magazine, which explores the design, development, and meaning of web content. He also described the theory and practice of responsive web design in his brief 2011 book titled Responsive Web Design. Responsive design was listed as #2 in Top Web Design Trends for 2012 by .net magazine.
As Marcotte said in .net magazine in January, 2012, "The web's moved beyond the desktop, and it's not looking back. Mobile traffic has exploded over the past few years, and the number of devices we're designing for – from phones to laptops to tablets, even game consoles and e-readers – is growing just as quickly."
ThatIt, Inc. is using this technology to build fantastic websites for their clients, which will adapt to any browser or mobile device. "Websites need to be smart, flexible, and adaptable for every single type of device out there," says Parekh. "This means creating an experience that is simultaneously aware of screen sizes from small, tiny phone all the way up to large cinema displays."
ThatIt, Inc. has worldwide clients across many different spectrums, including Illuminations well-being center, Jenny Rose fashion designer, Omar insurance, Damco third party logistics provider, Reel Cinemas, Ceva Logistics, Kitten Enterprises, and Emaar Insurance.
Founded in 2009, ThatsIt, Inc is located in Jumeirah Lake Towers in Dubai. They are a full-service, integrated communications agency that believes in the power of creating innovative ideas that initiate change for their clients and the world.