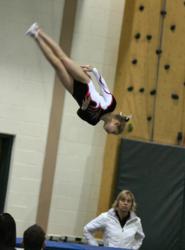 Every year our team has grown and the depth of our talents has gotten deeper.
Fitchburg Wisconsin (PRWEB) May 16, 2013
Gymfinity Children's Activity Center hosted the first ever US Trampoline and Tumbling State meet for Wisconsin on May 5th 2013. "Wisconsin is at a very early stage in development in having USTA affiliated clubs," says Robin Jensen, Wisconsin State Chair for USTA and Gymfinity coach. "One of the first things we needed to do to continue to grow was to have a championship level meet; we will see more programs enter USTA from this point." Jensen is joined at Gymfinity with Coaches Debbi Hernandez and Kenny Green and have offered USTA team programs for over 9 years. With Jensen taking the lead as State Chair the association is projected to grow.
Trampoline and Tumbling is comprised of 3 events: the tumbling is done on a power tumbling floor, the trampolines are not your typical backyard trampolines, they have far more lift and require more technical expertise. The third event is called Double Mini-trampoline, a long curved trampoline that require a mounting skill and a dismounting skill. It is often compared to the vaulting event in artistic gymnastics.
Gymfinity's program started in 2004 with only a handful of kids on the team. Today the team has grown to over 25 members and comprises levels from Beginner to Advanced. Following the first state championship Gymfinity had named many of its team members to the All State Squad as well as placing the majority of their team on the award podium. Coach Hernandez commented, "Every year our team has grown and the depth of our talents has gotten deeper." This is evidenced by the results posted below (within these results are various age groups and levels):
Tumbling:
1st Place: K. Hernandez, L. Butler, O. Hammond, A.Foley, G. VanderWegen, H. Droster, A. Krantz, Z. Heidenreich, S.McKinley, M.Heinzen, E. Queoff, C. Cameron and E. Orkowski
2nd Place: K. Queoff, N. Ganshert, K. Krantz, K. Droster, K. Walker
3rd Place: O. Orkowski
Trampoline:
1st Place: K. Hernandez, I. Ganshert, K. Queoff, L. Butler, O. Hammond, G. VanderWegen, K. Holmes, A. Krantz, O. Pax, M. Heinzen, K. Droster, K. Walker, E. Queoff, E. Orkowski
2nd Place: H. Droster, A. Foley, Z. Heidenreich, S. McKinley, C. Cameron
3rd Place: N. Ganshert, O. Orkowski
Double Mini Trampoline:
1st Place: K. Hernandez, I. Ganshert, L. Butler, O. Hammond, G. Vanderwegen, H. Droster, A. Krantz, Z. Heidenreich, M. Heinzen, K. Droster, K. Walker, E. Orkowski
2nd Place: K. Queoff, N. Ganshert, O. Pax, K. Krantz, S. McKinley, E. Queoff
3rd Place: K. Holmes, A. Foley, O. Orkowski
USTA Wisconsin State Team inductees
Tumbling: K. Hernandez (GYMF), K. Queoff (GYMF), L. Butler (GYMF), A. Rodefeld (TSTI), O. Hammond (GYMF)
Trampoline: K. Hernandez (GYMF), I. Ganshert (GYMF), L. Butler (GYMF), K. Queoff (GYMF), G.VanderWegen (GYMF)
Double Mini-Trampoline: K. Hernandez (GYMF), K. Queoff (GYMF), I. Ganshert (GYMF), L. Butler (GYMF), O. Hammmond (GYMF), G. VanderWegen (GYMF)