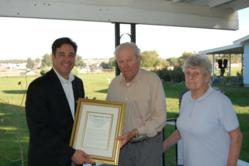 We're very proud of all the individuals who contribute to the success of our products, but none more than Gys van Beek.
Havertown, PA (PRWEB) May 15, 2013
Not only is 94-year-old Gys van Beek one of the oldest living inventors in America, but he also is an honored war hero.
In order to give individuals like van Beek recognition, Innovation Factory is launching a program to spotlight the achievements of its creative collaborators that have brought best-selling, made in the USA products to the market. The company will be posting blogs about the accomplishments of each, starting with van Beek.
Gys van Beek, who lives quietly in Caldwell, Idaho with his wife of 65 years, was entered into the Congressional Record last year by Idaho Congressman Raul Labrador for his efforts during World War II. He has also been recognized by governments of Canada, Great, Britain and the Netherlands, but he is particularly proud of his decoration awarded to him shortly after the war by Supreme Allied Commander, General Dwight Eisenhower.
As a member of the Dutch Resistance, van Beek was instrumental in aiding refugees and enemies of the Nazi regime, and he also helped numerous British, Canadian and American downed fighter pilots.
"We're very proud of all the individuals who contribute to the success of our products, but none more than Gys van Beek," Marvin Weinberger, Inventor-in-Chief of the Innovation Factory, said. "I first fell in awe of his Trucker's Friend when I saw it hanging forlornly on a remainders rack more than 4 years ago. How we came to manufacture the product – here in the USA – is a separate story, but at the time I had no idea of Mr. van Beek's courage and humanitarian achievements."
In 1999, the Shoah Foundation, founded by Stephen Spielberg, recognized van Beek as an Aid Giver for helping to save Jewish lives and demonstrating fearlessness and courage.
Van Beek, who claims he hasn't yet retired, continues to prepare new patent filings, making him one of the oldest living inventors in America. His numerous inventions include Innovation Factory's best-selling Trucker's Friend™, for which he receives a royalty on every purchase.
"We hope that by featuring his story, Gys van Beek will receive the broader recognition which he so genuinely deserves," Weinberger said.
For more information about Gys Van Beek and to learn about his war efforts visit the Innovation Factory blog.
About the Trucker's Friend™
Innovation Factory is very proud to be the exclusive licensee of the Trucker's Friend™. As the name implies, van Beek invented this multi-purpose tool to meet the needs of professional long-haul truckers. However, the Trucker's Friend™ has now attracted a broad (and vocal) following among fire and rescue workers, outdoor enthusiasts, survivalists and preppers, as well as truck drivers and other motorists. The serious tool has even been adopted by the community of zombie hunters.
About Innovation Factory
Innovation Factory creates leading edge products designed from first principles. All products are Made in the USA and come with a lifetime guarantee.