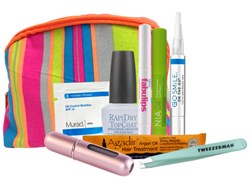 This kit left me worry free on my stressful wedding day!
(PRWEB) May 21, 2013
TheBeautyPlace.com helps brides to breathe a little easier on their wedding day. TheBeautyPlace.com features a Big Day Kit including all the essentials a glowing bride or bridal party member might need to shine on their Wedding Day.
TheBeautyPlace.com features Wedding Day essentials to give brides something to smile about on their Wedding Day. Flowers blooming and warmer weather indicates the springtime, which is subsequently, the start of wedding season. From Memorial Day to October, brides to be can finally celebrate all of their hard work of treacherous hours spent planning their big day. According to Market Research specialist IBISWorld, the size of the wedding industry and related services is at an enormous $50.6 billion. On top of that, due to consumers expanding their disposable incomes, the wedding industry is expected to increase by 2.3 percent over the next five years.
Engagement rings, dresses, registries and honeymoon vacations evoke a lot of planning and a lot of money. Ideally every bride wants their wedding day to go off without a hitch but realistically that does not always turn out to be the case. Between the nerves and all the planning people often forget about the actual necessities the Big Day requires.
TheBeautyPlace.com has created a beauty kit specifically for brides and the bridal party on their Wedding Day. The Big Day Kit encompasses everything a bride might need to look her best on her wedding day for a substantially low price.
Opi RapiDry nail polish serves two purposes. The obvious last minute nail emergency, and additionally, when applied to stocking runs it covers up any noticeable lines.
The wedding day kiss signifies a new beginning for the bride and groom. That said nobody wants a dry, skimpy set of lips to denote their fresh new life together. The lip plumper will leave lips visibly smoother and stay moist and hydrated throughout the day.
The smile is a key ingredient on the wedding day. Between thousands of pictures taken and the uncontrollable display of happiness that comes with marriage, it becomes crucial to have the perfect smile. The whitening pen whitens teeth discreetly and rapidly without messy and time-consuming strips or trays. The soft brush tip evenly coats the surfaces of teeth, for an all-over bright, beautiful smile. It's easy to use and takes just seconds to apply.
Stress on the Big Day is unavoidable. Between dealing with guests and committing to a lifetime decision jitters becomes inevitable. Stress is correlated to breakouts and dark spots and a spot corrector is made to eliminate that problem. The Depigmentation Spot Repair is a powerful spot treatment. It completely penetrates skin to minimize dark spots, sun and age spots.
The kit also contains trial sizes of the Agadir Hair Treatment and Murad Oil-Control Mattifier. Whether it is a beach wedding or on top of Aspen Mountain, a dab of this treatment and a touch of the mattifier will leave the brides hair and skin looking flawless. Both products are disposable so there is no need to transport full size bottles around the rest of the night.
Lastly, the kit contains Tweezerman Mini Slant Tweezers and Travalo Perfume Spray. Both are compact helping the bride to travel a little lighter.
The Big Day Kit serves to minimize stress. Any last minute beauty product a bride might need on her wedding day is supplied in a compact, travel friendly and price conscience kit.