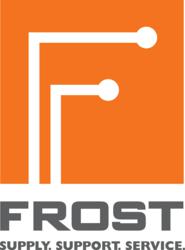 "We're dedicated to making it as easy as possible for our customers to be able to have access to the products and power fastening tools they need, when they need it." - Jeff Frost, Executive Vice President of Frost Supply
Columbia, MO (PRWEB) May 16, 2013
Frost Supply (http://www.frostsupply.com) is proud to announce the addition of Grant Ash and Berry Scruggs to the constantly expanding Tool, Fastening & Safety Division.
Grant and Berry, formerly of Automatic Tool & Fastener (AT&F), bring over 40 years of industry experience and extensive product knowledge to Frost Supply. Grant will serve as a regional account manager, while Berry will focus on counter and inside sales.
"We are thrilled to add two incredibly qualified people so knowledgeable about tools and fastening to our team," said Jeff Frost, Executive Vice President of Frost Supply. "Their impressive array of hands-on experience and longevity within the automatic fastening tools industry is something we're confident our customers will appreciate as much as we do."
In addition, Craig Head has rejoined Frost Supply. Craig will be supporting the Mid-Missouri team located at 1711 Paris Road in Columbia.
"Craig's contributions in sales and his industry knowledge were noticeably missed during his time away. We're pleased to welcome his extensive technical knowledge and knack for exceeding customer expectations back to the Frost Supply family," said Frost.
New Location Enhances Support and Service
Frost Supply is adding more than just headcount to their growing business. To further enhance their Tool, Fastening and Safety capabilities, the power fastening tools provider has opened a new full service satellite branch at 1809 Santa Fe Place, in Columbia, Missouri. The branch will serve as a hub for selling the most trusted names in fastening equipment in Mid-Missouri. With the recent opening, Frost Supply now has seven fully operational offices located in Missouri and Illinois.
"This is an instantaneous age and many businesses and hard-working contractors simply can't afford to wait for certain products to ship," said Frost. "We're dedicated to making it as easy as possible for our customers to be able to have access to the products and power fastening tools they need, when they need it. The spacious layout of this new location allows us to have job site tools and safety products on hand for immediate use."
Their key differentiators of free job site delivery, bulk hardware quantity discounts, and a fully stocked inventory of the most trusted manufacturers of stainless steel fasteners and contractor grade power tools has led Frost Supply to build a strong reputation as the industry's go-to supplier and project partner.
Those interested in learning more about the tools and fasteners available at the new Columbia location are invited to call the branch directly at 573-886-9777.
## ## ##
Now in its third generation, Frost continues to deliver a unique combination of products, services and expertise to the bi-state region. The Frost family guides the distribution company, with a focus on electrical supply, industrial automation, tools, safety and voice/data industries. Frost's knowledgeable staff continues to serve customers from headquarters in Maryland Heights, MO and our seven full service locations in the city of St. Louis, including O'Fallon, MO, two in Columbia, MO, as well as Collinsville, IL and Lebanon, IL.
For more information about Frost please contact Nick Arb by calling 314-567-4004 or visit http://www.frostsupply.com.
Frost Supply. Providing unmatched supply, support and service to their customers for over 100 years.