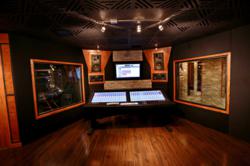 Wade Martin Studios is the most innovative recording studio ever built.
Las Vegas, NV (PRWEB) May 16, 2013
Super producer Wade Martin, is known for his work with Britney Spears, 50cent, Mandy Moore, The Rolling Stones, and Katy Cappella to name a few. Mr. Martin is also known for his lavish recording studios in Phoenix, ranked number seven in the world and now in Las Vegas, filling the number one spot. Critics are hailing the Wade Martin Studios Vegas location as his crowning achievement. Without question the best recording studio in Las Vegas Nevada.
This studio sports technology that simply does not exist anywhere else in the world. From its one of a kind, multi-touch screen mixing console to its environment controls that come straight out of a sci-fi movie. This full-color, multi-touch thermostat/computer can set variable temperatures and humidity levels in each room of the studio to then purify the air.
The doors are modified bank vault doors that seal in sound and the windows are double paned bullet proof glass that can withstand an AK 47 assault. The custom ceiling enhances sound while the stone, which was imported from South America, is very dense and diffuses the sound perfectly. The studio also possesses premium finishes like high gloss cherry wood floors.
Wade Martin Studios is clearly on the digital cutting edge, yet when you look behind you from the center console position there are hundreds of thousands of dollars in vintage analogue hardware. Everything from Neve, SSL, La2a's to Fairchilds. Not to mention a vintage microphone locker that you have to see to believe. Mr. Martin says that analogue hardware is still irreplaceable in the pro audio world nor are we even close to being able to replicate the workings of analogue and digital interfacing "correctly" together just using the digital playing field by itself.
Mr. Martins focus now is the continued cultivation of his newest artist Katy Cappella. After the successful release of her debut album 'Turn The World Around' at the end of last year her looks, incredible vocal capabilities and Mr. Martin's power are guarantees that she will have a long lasting career.