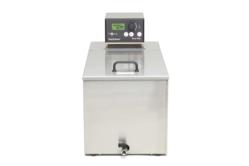 Niles, IL (PRWEB) May 17, 2013
PolyScience, a leader in culinary technology, has recently introduced a broad full line of fully integrated sous vide circulating bath systems designed specifically for slow, low-temperature cooking. Available with a choice of four temperature controllers and 29 quart (28 liter) polycarbonate or 29 or 47 quart (28 or 45 liter) insulated stainless steel tanks, these easy-to-use Sous Vide Professional Circulating Bath Systems help both professional and aspiring home chefs achieve perfect, repeatable results every time. For optimum kitchen convenience, all these systems feature a generous opening for easy access to food and an easy-to-clean bridge mounted controller.
PolyScience Chef Series systems control temperature with ±0.13°F (0.07°C) stability and have a single-speed pump with adjustable flow. They are available with either a polycarbonate or stainless steel tank.
Chefs requiring greater operating convenience may prefer the company's Classic Series Circulating Bath System, which features three user-settable temperature presets for the quick recall of frequently used sous vide cooking temperatures. Classic Series systems deliver ±0.1°F (0.05°C) temperature stability, have a two-speed pump, and stainless steel tank.
Delivering the ultimate in temperature control and cooking flexibility are PolyScience Artist Series and Classic Plus Series Circulating Baths. Both feature a programmable controller that can be used to create and store multi-step, multi-temperature cooking profiles and control temperature with ±0.02°F (0.01°C) precision. Artist Series models feature a large touch screen display, variable speed pump, built-in timer, and can be remotely monitored or controlled using an iPhone or iPad. Classic Plus models have a four-line digital readout, variable speed pump, and timer. Artist Series systems are available with either a polycarbonate or stainless steel tank; Classic Plus Series system come with stainless steel tanks only.
For more information, visit cusinetechnology.com, call toll-free 1-800-229-7569 (outside the US call 847-647-0611), email culinary(at)polyscience(dot)com, or fax the company at 847-647-1155.