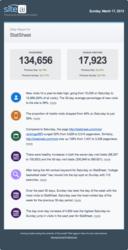 It is like having your own data scientist scouring your site's data and then writing a summary for you every morning. Charts and graphs don't tell a story, words do. We help you discover the story behind your data.
Durham, N.C. (PRWEB) May 21, 2013
Automated Insights (Ai) today announced the launch of SiteAi http://www.siteai.com, a first-of-its-kind service that helps website owners discover the hidden insights locked away in their web analytics by transforming their data into actionable reports authored in plain English.
SiteAi leverages Automated Insights' sophisticated artificial intelligence platform, which sifts through large data sets to spot interesting patterns and trends, and then describes those findings in natural language, all with the tone, personality and variability of a human writer. SiteAi seamlessly connects to multiple analytics providers, including Google and Clicky, with plans to support others in the future. Once connected, it automatically analyzes a website owner's data, producing a daily or weekly summary personalized around the key activity on that site.
"It is like having your own data scientist scouring your site's data and then personally writing a summary for you every morning, telling you exactly what you need to know," said Robbie Allen, Automated Insights' Founder and CEO. "Today, site owners and managers have to dig through massive data tables and charts or try to build their own solutions to discover any information of value. The problem is that charts and graphs don't tell a story, words do. We help them discover the story behind their data."
The reports produced through SiteAi give users insights about key streaks and trends, detailing where their unique users are arriving from and how they're behaving when they get there. Depending on what is most relevant on that day, a given report will provide penetrating observations on topics that include: mobile and social activity, what inbound links or marketing campaigns are driving the most traffic, and how consistent or volatile a site's key metrics are over time. Examples of a daily and a weekly recap can be found here: http://www.siteai.com/example.
As part of the launch, Ai is allowing users to access the reports for free for 60 days. After that time, the reports will start at $10/month. However, once there are 10,000 registered users, Ai will drop the price to $4/month for everyone. SiteAi is currently operational with Google Analytics and Clicky, and will be allowing users to vote on which provider they will integrate with next – Gauges, Chartbeat, GoSquared or Woopra.
"Other than some advances in real-time traffic monitoring, there hasn't been much innovation in the web analytics space," said Allen. "It's time for that to change. We believe the future of content is reaching each user in real-time, with a story written for and about them, from their data. SiteAi is a perfect example of how we can do that in a way that really helps users."
About Automated Insights, Inc.
Automated Insights, Inc. is revolutionizing the content creation process with technology that automatically transforms raw data into narratives (articles, summaries, headlines), visualizations (charts, tables, graphs) and interactive applications (mobile and Twitter/Facebook–based social applications). The company's software is able to convert large datasets into written word summaries that highlight key trends and insights and are indistinguishable from content written by a human author. Automated Insights is helping companies in a variety of markets (such as finance, fitness, business intelligence, real estate and sports) realize the full potential of their data assets. In essence, the company uses technology to humanize big data by personalizing stories to one user among millions – delivering a tailored and actionable narrative at scale and in real-time. To learn more, visit http://www.automatedinsights.com.