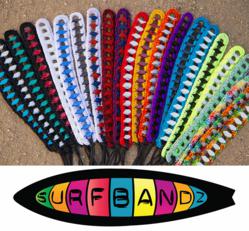 We had an idea that we thought might catch on with our peers so we ran with it. We've been overwhelmed with the response. It seems like everyone who sees our pop tab bracelets wants one.
Mesa, AZ (PRWEB) May 15, 2013
Local teenage siblings, Kennidy and Huddson, are proud to announce the launch of their crazy cool fashion accessory, the Surf Bandz bracelet. The genesis for the idea came when Huddson saw a type of pop tab wristband at summer camp. He and his sister improved on the design and implemented methods to begin the manufacturing process locally and overseas. They originally contemplated using actual aluminum pop tabs from soda cans but soon discovered that these had a tendency to be sharp, unsanitary and came in various shapes and sizes. So they had a mold cast and began to manufacture their own. Thus, Surf Bandz were born.
The bracelets come in over 60 different colors, some vibrant, some subtle, and are laced together with nearly 50 feet of cotton string. There are over 40 million different combinations of string colors, tabs and various styles available to their customers. Other types of tab coatings, materials and strings are being tested currently for possible future use.
Teen Bandz entrepreneur, Kennidy said, "We had an idea that we thought might catch on with our friends so we ran with it and we've been overwhelmed with the response. It seems like everyone who sees them wants one." Added Huddson, "The beauty of a Surf Bandz bracelet is that we can take almost any design our customers dream up and have it completed and shipped to them within three to four days. People are surprised to learn just how inexpensive Surf Bandz are at $6-10 each. They usually end up buying more than one so they can color coordinate with different outfits, occasions and events."
Surf Bandz hosted a "soft launch" party on May 11, 2013 at their Arizona headquarters where each attendee was given a sample of the merchandise. The island-themed event was attended by over 300 people including customers, potential retail distributors, members of the press and friends of the company who were treated to Polynesian fire dancers, food and prizes. The purpose of the "kick-off" party was to get the word out that Surf Bandz are available for immediate purchase.
These fashionable, one-size-fits-all bracelets are easy to order. A shopper can visit the website and either buy a bracelet that's in stock or follow the simple instructions to create their own. They'll see exactly what the completed accessory will look like on the screen before they order. Typically, once a customer starts experimenting, several bracelets are created and ordered because it's a very engaging, personal experience.
Surf Bandz bracelets are available immediately to store owners in the USA and Canada who would like to compliment and colorize their clothing and accessory departments with these already popular pop tab bracelets. In addition, Bandz, LLC is seeking a limited number of retail distributors.
If you'd like more information about SurfBandz.com or to schedule an interview, please call 855-439-7873 or email hudd(at)surfbandz(dot)com.