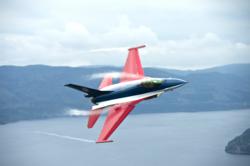 Concord, ON (PRWEB) May 16, 2013
Omnivex Corporation, a provider of enterprise-level software for digital signage networks, announced today that their Moxie software is being used by the Norwegian Military to take real-time F16 cockpit video and project to audiences on the ground at air shows.
To celebrate the 100th anniversary of military flights the Norwegian Air Force was looking for a way to engage the public at air shows being held across the country. "The goal with the anniversary was to reach out to the Norwegian people through targeted and innovative measures," said Stian Nergaard Nilsen, Project Leader "Norwegian military airforce 100 years".
The solution was to take video from the cockpit of a General Dynamics F16 coated in red, white and blue, the national colours of Norway, and project it real-time to the ground on large screens for over 500,000 attendees at air shows around the nation.
This had never been done before, and the solution had to be specially designed and created for use in a military cockpit, with all the limitations this environment has. After a series of tests, a technical solution was designed using Omnivex Moxie to give the audience the best possible access to the cockpit by bringing real-time images down to the ground during air shows. Geir Ove Finstad, CEO of Dataserver, was the man who got the mission to resolve this somewhat special task. An F-16 aircraft is an advanced military aircraft with all sorts of peculiarities which made the task harder than similar projects Mr. Finstad had completed. Working with a very professional team from the military the mission was completed and video from a military fighter aircraft flying at 1,000 km/h can be played real-time on the ground. "This really shows how far you can stretch the definition of real-time data," says Geir Ove Finstad.
About Dataserver
Dataserver founded in 2011 is a provider of all aspects of digital signage solutions. The people behind Dataserver have many years of experience in delivering digital signage solutions to verticals such as military, government, corporate, hospitality and retail. Dataserver only uses Omnivex software for their digital signage solutions and have strong partners in the Nordic region.
About Omnivex
Founded in 1991, Omnivex software is used by over 2,000 customers, including many Fortune 500 companies, to manage all aspects of digital signage networks, including content management, real-time data acquisition and distribution, and remote device monitoring and management. Omnivex and its customers have been recognized with numerous awards for excellence in digital signage. For more information, visit http://www.omnivex.com.