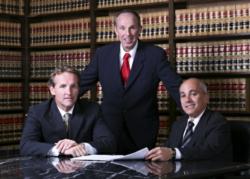 In California we have a constitution that makes clear that anyone accused of a crime is presumed innocent.
We ask that the public and the media provide our client that presumption of innocence and not assume anything because he has been arrested
Los Angeles, CA (PRWEB) May 15, 2013
Wallin and Klarich has been successfully defending school teachers and employees who have been accused of similar crimes for over 30 years.
According to court record from Los Angeles Superior Court, case number 3SY02756, Juan Carlos Gutierrez, vehemently denies all wrongdoing in this case. He has been a teaching assistant for 20 years and a resident of the South Bay for over 30 years. He has absolutely no criminal record.
"In California we have a constitution that makes clear that anyone accused of a crime is presumed innocent. We ask that the public and the media provide our client that presumption of innocence and not assume anything because he has been arrested," - Wallin & Klarich: A Law Corporation.
According to court documents, the charges filed by the prosecutor against Wallin & Klarich's client Juan Carlos Gutierrez on May 14, 2013 are all misdemeanors. "Misdemeanors are the least serious of crimes in California. If Mr. Gutierrez was found guilty of one count of PC 647.6 he would face a maximum sentence of one year in county jail. That is it" – Wallin & Klarich.
Wallin & Klarich issues the following statement to the media, "The fact that our client will now have to face these false allegations will be devastating to himself and his family. Juan Carlos is a hardworking family man who would never harm a child. We ask that you not attempt to speak to our client or his family and respect his privacy at this difficult time. You can direct all inquires to Wallin and Klarich at 877-466-5245."
# # #
About Wallin & Klarich
As a premier criminal defense and family law firm based in California, Wallin and Klarich (http://www.WKLaw.com and http://www.WKFamilyLaw.com) has been assisting clients from across the country for over thirty years. The firm believes that every person is entitled to the highest quality legal assistance when it comes to facing difficult situations and has committed all of its resources to aggressively defending its clients. The firm has established itself as one of the most successful in the nation when it comes to defending against charges of DUI, criminal matters and sex crimes, and is acknowledged for successfully handling divorce and child custody cases. By making certain that our clients' legal rights are always protected, we take the "fear" out of the legal fight.