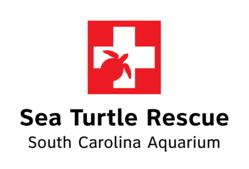 Charleston, S.C. (PRWEB) May 15, 2013
May 23rd is the big day! Three sea turtles rehabilitated at the Aquarium's Sea Turtle Rescue Program will be released back into the Atlantic Ocean. The sea turtles being released suffered from a variety of injuries including entanglement and cold stunning. Join us on at the Isle of Palms County Park at 4:00 p.m. for the first release of the season, which is being held in partnership with the South Carolina Department of Natural Resources (SCDNR) and the Charleston County Parks and Recreation Commission (CCPRC). The event is open to the public; all attendees should plan to carpool, arrive early, and expect to pay for parking at the county park.
More on the turtles being released:
Birdie:
Birdie, a 16-pound Kemp's ridley (the most endangered of all sea turtle species) was brought to the Sea Turtle Hospital in September of last year after being found off Bird Key near Folly Beach. Birdie arrived at the hospital with deep lacerations on his/her neck and front and rear flippers from becoming entangled in monofilament fishing line. The line was carefully removed and the wounds were flushed and treated with antibiotics. X-rays revealed that Birdie was also suffering from bone degeneration at the entanglement site on the rear flipper. Laser therapy was used to treat all of the injuries and now Birdie is in optimal health and ready to hit the open ocean once again.
Manteo:
Manteo, a 60-pound juvenile loggerhead sea turtle, was brought to us after a massive cold stunning event along the East Coast. Manteo was found cold-stunned near the Outer Banks of North Carolina along with several other cold-stunned turtles. In an effort to help North Carolina facilities with the large number of cold-stunned sea turtles that stranded in early December, Manteo and two other loggerheads were transferred to the Aquarium's hospital. Manteo received antibiotics, fluids, and a healthy diet. After five months of care, Manteo is splashing around the tank, and ready to swim the seas.
Taylor:
Taylor, a 45-pound juvenile loggerhead sea turtle, was also part of the massive cold-stunning event, but was found near Cape Cod, Massachusetts, in December. Taylor was one of 18 sea turtles transferred to the Aquarium's Sea Turtle Rescue Program by plane last winter, in part thanks to pilot Michael Taylor. Thanks to the great care initially provided by the New England Aquarium, Taylor's treatment at the hospital consisted of simply finishing his/her round of antibiotics, and of course plenty of TLC. Taylor is looking forward to getting back into the wild now that water temperatures along the East Coast have warmed up significantly.
More about Cold Stunning:
When sea turtles are exposed to cold water temperatures for long periods of time, they undergo a hypothermic reaction. Symptoms of that reaction include a decreased heart rate, decreased circulation, and lethargy, which may be followed by shock, pneumonia and, in the worst case scenarios, death. Sea turtles are affected by cold-stunning because they are cold-blooded reptiles that depend on their environment to regulate their body temperature. In cold weather, they don't have the ability to warm themselves and typically migrate to warmer waters around the end of October.
How to Help:
You can help care for sea turtles in recovery at the Aquarium's Sea Turtle Hospital by going to http://www.scaquarium.org and making a donation. While online, you can also visit the Sea Turtle Hospital's blog at http://seaturtlehospital.blogspot.com/ to track the progress of patients currently being cared for at the hospital. You can also find out more about visiting the hospital as part of a behind-the-scenes tour.
For all media inquiries, please contact Kate Dittloff at (843) 579-8660 or kdittloff(at)scaquarium(dot)org
About the South Carolina Aquarium Sea Turtle Rescue Program:
In partnership with the South Carolina Department of Natural Resources (SCDNR), the South Carolina Aquarium Sea Turtle Rescue Program works to rescue, rehabilitate and release sea turtles that strand along the South Carolina coast. Located in the Aquarium, the Sea Turtle Hospital admits 20 to 30 sea turtles each year. Many of these animals are in critical condition and some are too sick to save.
According to SCDNR, over the last 10 years the average number of sea turtle standings on South Carolina beaches each year is 130. Of these, roughly 10% are alive and successfully transported to the Sea Turtle Hospital. To date, the South Carolina Aquarium has successfully rehabilitated and released 107 sea turtles and is currently treating 18 patients. The average cost for each patient's treatment is $36 a day with the average length of stay reaching nine months.
About the South Carolina Aquarium:
The South Carolina Aquarium, Charleston's most visited attraction, features thousands of amazing aquatic animals from river otters and sharks to loggerhead turtles in more than 60 exhibits representing the rich biodiversity of South Carolina from the mountains to the sea. Dedicated to promoting education and conservation, the Aquarium also presents fabulous views of Charleston harbor and interactive exhibits and programs for visitors of all ages.
The South Carolina Aquarium, a 501(c)(3) not-for-profit organization and is open daily from 9 a.m. to 5 p.m. The Aquarium is closed Thanksgiving Day, half day Dec. 24 (open 9 a.m. to 1 p.m.) and Dec. 25. Admission prices are: Toddler's (3 and under) free; Youth (4-12) $14.95; Adults (13+) $24.95. The Aquarium plus the 4-D Theater experience is free for Toddler's, $19.95 for Children, $29.95 for Adults. The 4-D Theater experience only is $6.95 for children and adults, and free for members. For more information call 843-720-1990 or visit scaquarium.org. Memberships are available by calling 843-577-FISH.
###