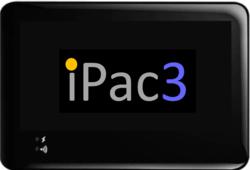 San Francisco, CA (PRWEB) May 17, 2013
Vir2us (pronounced virtuous) today announced the release of the third in a series of products in the company's Genesis Systems product line that puts an end to the need for tedious and lengthy computer repair processes. Current computer repair methods often don't fix computer users' problems because of their inability to identify millions of unknown and embedded viruses and malware, as well as their inability to fix intermittent hardware issues. Vir2us' iPac3 is a handheld version of the company's Genesis Server Appliance and is expected to revolutionize computer repair and restoration. The iPac3 performs its patented process in about 15 minutes and is already disrupting major computer service retailers. According to Rebecca Brown, spokesperson for the company, "Many electronics retailers have invested tens of millions of dollars in service models that are failing to achieve even modest levels of satisfaction among customers. iPac3 allows service providers to offer one-hour service, a guaranteed upfront price and a guaranteed high quality result." The iPac3 seems poised to make current retail service models obsolete at least in part because it gets consumers and workers back to full productivity in as little as an hour.
Vir2us created the Genesis and iPac3 technologies to solve a difficult problem for government and critical infrastructure professionals who need to know that computing environments are pristine and virus-free when deploying new applications software for mission-critical processes like controlling the nation's power grid, oil gas and water pipelines, to name just a few. The iPac3 has already been released to international service providers and e-cycle firms in the U.S. and the UK, and is expected to be in over 30 countries by next year. With over 1.8 billion computers in the world today, and nearly 200 million new computers sold each year, the iPac3 could be the best thing to happen to computing in a long time.
The iPac3 is in a category of sustainable, green technologies, which is expected to push e-cycling of computer electronics to over 90% from the less than 20% currently recycled in the U.S. today.
About Vir2us: Vir2us (pronounced virtuous) is a privately held technology solutions development firm spawned in the Silicon Valley area in 2001, and with headquarters in Sonoma County, California. The company's work in cyber security has been recognized by industry, academic and government experts including the U.S. National Institute of Standards and Technology (NIST). NIST has cited the company's specifications for its Immunity technology in its recommendations for securing the nation's power grid infrastructure as part of the government's Smart Grid initiative (July 2010). Vir2us technology has been dubbed "game-changing" by government cyber security insiders including NSA and White House cyber security experts.
For more information, email Rebecca Brown at RBrown(at)vir2us(dot)com.