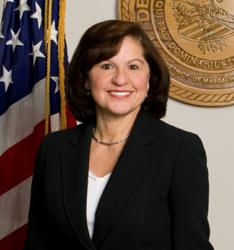 Boston, MA (PRWEB) May 20, 2013
New England Law | Boston, a Boston law school located in the heart of the city, is pleased to announce the Honorable Carmen M. Ortiz, United States Attorney for the District of Massachusetts, will deliver the address at New England Law | Boston's 102nd Commencement on Friday, May 24, 2013.
"U.S. Attorney Ortiz has had a remarkable career in public service and law, courageously tackling some of the most challenging issues of the day and offering an outstanding example of the importance of law in modern society," said Dean John F. O'Brien. "We will be honored to welcome her as our Commencement speaker."
Ms. Ortiz has dedicated much of her professional career to public service and is the first Hispanic and first woman to represent Massachusetts as United States Attorney. She has received numerous awards for her commitment to public service, including (in 2012) being named the Boston Globe's "Bostonian of the Year" and El Mundo's "Latina of the Year." New England Law | Boston awarded her an honorary doctor of laws degree in 2012.
As the Commonwealth's chief federal law enforcement officer, Ms. Ortiz supervises the prosecution of all federal crimes and the litigation of all civil matters in which the federal government has an interest. She oversees the work of more than 200 attorneys and support staff in Boston, Springfield, and Worcester.
Most recently, she was integrally involved in the joint law enforcement effort that resulted in the capture of the Marathon bombing suspects and will ultimately prosecute the case against accused Boston Marathon bomber Dzhokhar Tsarnaev.
Honorary degrees will be presented to:
Hon. Michael J. Astrue
United States Commissioner of Social Security (2007-2013)
Doctor of Laws
Hon. Robert A. Mulligan
Chief Justice of the Trial Court of Massachusetts
Doctor of Laws
Joan Wallace-Benjamin, Ph.D.
President and Chief Executive Officer
The Home for Little Wanderers
Doctor of Humanities
As in years past, graduates will process from the law school to the Citi Performing Arts Center, Wang Theatre. The ceremony will begin at 11 a.m. and will feature the awarding of 328 diplomas.
About New England Law | Boston:
New England Law | Boston, located in the heart of Boston's Back Bay, prides itself on a powerful combination of academic excellence and community engagement and a focus on what prospective students can bring to the school's dynamic community of thinkers and doers. Founded in 1908 as the only law school established exclusively for the education of women but coeducational since 1938, New England Law students learn through experience, with a robust clinical program and practical learning curriculum. With one-on-one assistance from the Office of Career Services, New England Law graduates are prepared to enter the workforce upon graduation. New England Law is one of only two institutions in Boston to offer an evening law school program. New England Law offers a generous financial aid program.