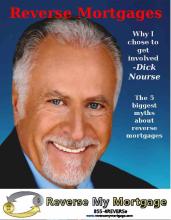 Having a tool to help seniors quickly and effectively grasp the concepts presented in these complex programs is long overdue.
Salt Lake City, UT (PRWEB) May 15, 2013
What is the fastest and least painful way for seniors to learn the pros and cons of home equity conversion mortgages (HECM)?
In an effort to provide seniors a clear picture for what a HECM loan can do for their future, RMM has announced plans to update its website with easy-to-use technology that will allow seniors to quickly and easily interact with a live broker. This will help them to better weigh out reverse mortgage pros and cons. "When someone is struggling to understand things that are complex in nature such as results from a reverse mortgage calculator, we want to ensure there is no poor communication or misrepresentation. This is why a suite of tools for more interactive and warm communication will be preferred by seniors," said Mark Schow, Owner of RMM.
RMM is reinventing the power of video conferencing.
For many seniors, the information available on HECM loans is obscure at best. Most homeowners feel overwhelmed when they start talking to an agent about their potential benefits. This becomes difficult if figures are being read of the phone from reverse mortgage calculator results. Beyond all the rules and regulations that must be understood, such as the requirements that: seniors must live in the home, they must be over the age of 62, and the home must be fixed to the property, there are other extremely important factors. These other factors, such as how Social Security Benefits and Medicare will interact or conflict with a potential home equity conversion mortgage; can be cumbersome to understand.
Introducing the freedom of Q & A with a level of professional guidance.
This new suite of tools will not only answer the most important questions for seniors such as explaining an instant quote derived from the reverse mortgage calculator, it will also provide a level of direction to interaction. At this level of service, seniors can breathe easy knowing they are talking to an expert from RMM who can competently tell them; right on their computer screen how the HECM loan will impact their life and what they should expect. This dialogue of trust takes place all within the comfort of the home which allows a freedom of mobility and extra level of comfort, especially for homeowners who have a difficult time getting up and moving around. The new technology will provide more options, and even allow family members to join the conversation and have their concerns addressed regarding the potential reverse mortgage pros and cons of moving forward with the program. For more information, please visit: http://www.mortgagereversecalculator.com