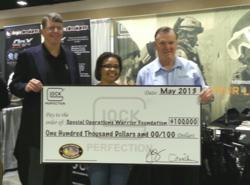 Tampa, FL (PRWEB) May 16, 2013
GLOCK, Inc. presented $100,000 to the Special Operations Warrior Foundation (SOWF) at the 2013 Special Operations Forces Industry Conference (SOFIC), held at the Tampa Convention Center in Tampa, Fla., May 14-16, 2013.
Those attending the ceremony included Josh Dorsey, GLOCK Vice President; retired Air Force Col. John T. Carney Jr., and Tricia Simmons, the surviving spouse of Army Master Sgt. Shawn Simmons who lost his life in Afghanistan in 2008 while assigned to the 7th Special Forces Group. Simmons' son, Justin, 15, will be receiving funds for a college education through the Special Operations Warrior Foundation.
"GLOCK, Inc. is proud to continue its support of the Special Operations Warrior Foundation with our annual donation," shared Dorsey. "We are tremendously grateful for the sacrifice and dedication of the armed forces, and relish the opportunity to contribute to honoring the men and women on the front lines."
This year's donation brings GLOCK's total contribution to $800,000.
"We are deeply appreciative of the men and women at GLOCK," said John T. Carney Jr. "These funds will go a long way to providing a quality college education for the children of fallen special operations heroes."
About GLOCK, Inc.
The GLOCK GROUP is a leading global manufacturer of pistols and accessories. GLOCK's superior engineering has produced a pistol with only 34 parts and a rugged polymer-frame, providing industry-leading reliability shot after shot. GLOCK is renowned for its pistols which are safe, featuring three safeties; simple, offering a low number of components to provide reliability; and fast, with no encumbering parts to slow the speed to fire. This combination makes GLOCK pistols the first choice among consumers and law enforcement, with approximately 65 percent of agencies within the United States choosing to carry GLOCK. Austrian-engineered, the group has manufacturing facilities in the United States and Austria. Based in Smyrna, Ga., GLOCK, Inc. is an advocate for our nation's law enforcement and military personnel, as well as all citizens' Second Amendment right to bear arms. For more information, please visit http://us.glock.com.
About the Special Operations Warrior Foundation
The Special Operations Warrior Foundation is a top-rated nonprofit 501 (c) (3) organization that provides support for the families of fallen and wounded Army, Navy, Air Force and Marine Corps special operations personnel through its two primary programs: (1) Ensuring college educations for the children of fallen special operators; and (2) Providing immediate financial assistance to the families of severely wounded special operations personnel.