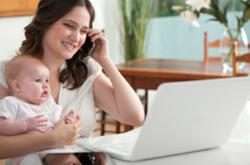 Canadians may believe they have fulfilled their duties if they only get coverage for the working parent.
Toronto, ON (PRWEB) May 17, 2013
No one wants to think about purchasing a life insurance policy. For many people, they experience a variety of ill feelings and ultimately keep putting the decision off until another day. Nevertheless, if someone is a stay at home parent, purchasing a life insurance policy is not only necessary, but vital. KANETIX sets out to try and shed life on the option of buying life insurance policies for a stay at home parent.
Canadians may believe they have fulfilled their duties if they only get coverage for the working parent. However, many neglect to consider how family life may be if the person the family loses is the stay-at-home parent. This is a significant oversight when you consider that according to Statistics Canada there are 2.7 million couples in Canada with at least one child at home and one in five of these families (501,000) include a stay-at-home parent. (Other interesting statistics about Canadian stay-at-home parents: Of these 501,000 families, 88 per cent were made up of a stay-at-home mother and 12 per cent a stay-at-home father. Fathers are increasingly represented as the stay-at-home parent.)
Why Purchase Life Insurance for Stay-at-Home Parents?
It's not always understood initially why stay-at-home parents need to purchase life insurance; in fact it's one of the most common life insurance myths that if you don't work outside of the home it's not needed. Although they remain at home taking care of the family and the house, what a stay-at-home parent contributes to the family's bottom line has great monetary value:

Housecleaning
Cooking
Driving the children to school, activities, doctor and dental appointments
Day care
Laundry service
And much, much more
The answer then, to the question "why purchase life insurance for a stay-at-home parent?" is to provide financial protection to your loved ones.
How Much Life Insurance Do Stay-at-Home Parents Need?
The financial contribution a stay-at-home parent adds to the family resources is often greatly underestimated. Research by Salary.com showed that the amount of money stay-at-home parents would earn if they received a salary would be $113,586 in 2013. Although specific to moms, we're sure the same would be said for stay-at-home dads too.
An Investopedia article also estimates a stay-at-home parent's salary at almost six figures.
Needless to say, we're not talking about an insignificant financial contribution to the family, and the life insurance policy for a stay-at-home parent should reflect this fact.
What Are the Goals of Purchasing Life Insurance?
Before you purchase life insurance, you need to determine how much money you would like to leave your beneficiaries. Calculate this amount by deciding what the goals are you would like to achieve. Begin by asking yourself:
Do you want to ensure your family will be able to maintain the lifestyle that they are currently living?
Do you want to leave them debt-free? Free of a mortgage loan, car loan or credit card debt.
Do you want to leave your children with an inheritance?
Do you want to make sure that if the surviving parent needs to leave their job (even if only temporarily) after the death of the stay-at-home parent, they can carry the household for a while until they get back on their feet?
Also, don't forget to consider that the surviving spouse may need or want outside help—at least initially—to maintain the family's lifestyle and routine, and all of this can be attained with the help of having adequate life insurance coverage.
Furthermore, after a death, the surviving parent will have to pay funeral and burial costs, and may be ill-prepared to meet these expensive obligations without sufficient life insurance in place. The children will need money to fund their post-secondary education, and if the surviving parent must reduce their work hours after the death of the stay-at-home parent (to provide the time and attention the family needs), his or her income may be affected.
In all of the above instances, people can purchase enough life insurance to help the survivors keep their homes, take care of the everyday living obligations and pay any end-of-life expenses that present themselves at this difficult time.
Read more about The Importance of Buying Life Insurance Policies for a Stay-at-Home Parent at KANETIX
About KANETIX®
Launched in October 1999, KANETIX was Canada's first online insurance marketplace and today provides over a million quotes per year to consumers looking for insurance, as well as comparisons for mortgage rates and credit cards.
The KANETIX comparison service is a one-stop shopping environment for consumers. Each day, thousands visit the KANETIX website at http://www.KANETIX.ca to comparison shop their various financial needs. Shoppers choose what they want to compare, obtain a quotation and complete an online application or, with the help of KANETIX connect with the provider to purchase or apply for the product over the phone.
Through its Software as a Service team, KANETIX is also the leading provider of online insurance quotation technology, developing online quotation systems, mobile solutions, actuarial tools and websites for many of Canada's largest insurance brands.