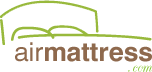 "We don't sell air mattresses, we sell a good night's sleep," stated AirMattress.com CEO, Matt Reese.
Utah (PRWEB) May 16, 2013
AirMattress.com recently launched their new website containing six different brands offering all size ranges. Each product has been tested by AirMattress.com and contains customized reviews.
Offering the best-of-the-best brands, AirMattress.com provides informative articles, demonstration videos, reviews and custom photos for each product on the site. The specialty air mattress site also offers warranties for every product it carries.
"We try to provide accurate customer reviews, so they can have a fair idea of what to expect. We want to know what other customers have experienced with this product," stated Matt Reese, CEO of AirMattress.com. "Our primary focus is providing world-class customer service, which can sometimes be challenging with inflatable products. So we've set up a no-leak warranty that will ensure each customer receives a functioning and quality product."
With an in-depth knowledge in air mattresses, the specialty site allows customers to search for the perfect mattress by size, style, pump and price. AirMattress.com also carries a diverse line of airbed accessories.
In addition, the experts from AirMattress.com have recently picked up the new line, Fox Airbeds. Through testing out a variety of airbeds on the market, Fox Airbeds takes the best features of each and applies it to their product line. Offering a full line of sizes, these airbeds offer a great combination of quality and comfort.
The specialty airbed site has a customer service team available via chat, phone, or email to efficiently advise any visitor. For more information, please visit airmattress.com.
About AirMattress.com
Established in 2013, AirMattress.com offers a wide variety of top quality airbeds from six different brands. Each product is provided with a custom review from the specialty site as well as a warranty. AirMattress.com is the best place to find demonstration videos, customer reviews and detailed photos of the product prior to purchase. Customer satisfaction is the top priority, providing the best customer service and only the best beds for a great night sleep. For more information, please visit http://www.airmattress.com or call us Toll-Free at 1-800-378-5817.